I wanted to continue my Snapshots Series. I am trying to go in some kind of chronological order. Next would be my first four months out of the Amish. I have two photos that survived from that time, one that I found out about only a year ago. There were a whole lot more at some point, which I gave to my girlfriend, Maureen, before returning to the Amish. She gave them to David, who brought them to Ohio when he visited me there the first time. I was living with the Bender family at the time. When he got them out, I asked to see them. He saw the look in my eye and hesitated, but I insisted. As soon as I had them in my hands, I ran down to the basement where they had a coal furnace and I threw them into the fire. Even as I watched them burn, giving off a greenish flame, I wanted to snatch them out again. I somehow knew I would regret that rash display of declaring my Amishness. And I have and I still do.
So I will post the two photos that did survive. Both these photos were taken at the Lalancette home. They were the family who took me in my first Thanksgiving and Christmas away from home. I was twenty years old.
The first one is taken in the Lalancette's living room, on Christmas Eve. This one is not very clear, but you can make out my pink slippers, even though I am wearing rather formal clothing. That was my Amishness, too.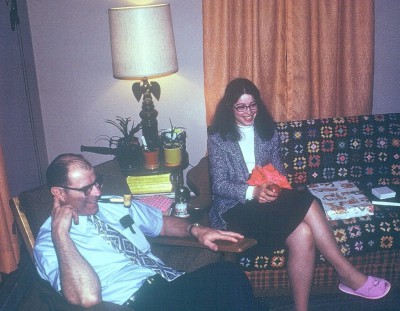 Christmas Eve 1977: Mr. Lalancette (Leo) is also pictured.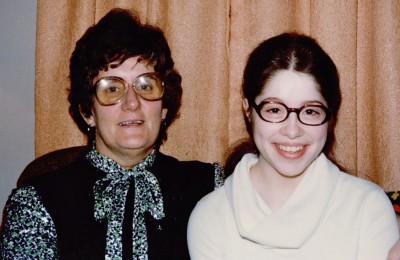 Christmas Day 1977: Mrs. Lalancette (Sal) and me
For more about the discovery of this photo, you can read my earlier post:
When We Were Young
.
Sorry it has taken me this long to post a blog entry. I am preparing for a book tour to the Midwest, which will be pretty intense — eleven author talks in twelve days. I will probably not post very often during that time.