The recent road trip David and I took all the way to Florida was a wonderful way for the two of us to connect in ways that we can't in our everyday at-home lives. It also gave us several chances to make connections with friends, old and new. You may have seen my blog post about meeting with Katie Troyer.
My post today is about my long-time friend, Candelin Wahl, and her husband, George. Candelin is living temporarily in St. Augustine, Florida. David and I got a chance to spend time with her there. It so happened that George went on vacation from his job and was down there at the same time we were. He had just left the skating rink in Vermont that he helped maintain all winter and had flown down the day before. Suddenly, us northerners with our pasty faces, had our skin kissed by the Florida sunshine and 70 degree weather.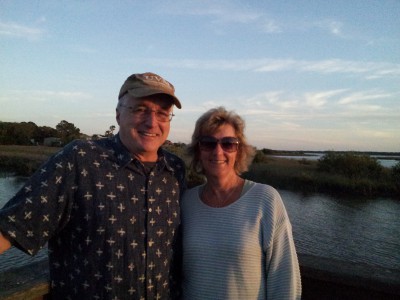 George and Candelin
We sat by the pool with Candelin and George and caught up on our lives since we'd last seen one another. Candelin solved a crossword puzzle with no help from us, though we listened to the clues.
The beach there was so beautiful and not yet crowded, because it was not yet high season for northern Florida. When the tide goes out on the beach there, the sand is hard packed.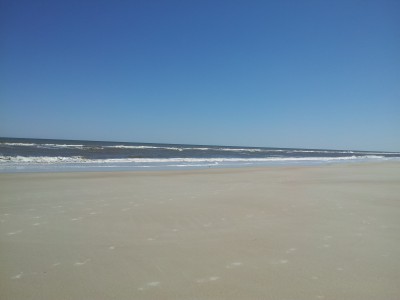 People can actually bike along the shore for miles. That would be about as good as it gets for me. I love biking and doing so along the ocean sounds divine. David actually took the plunge into the ocean. (I watched).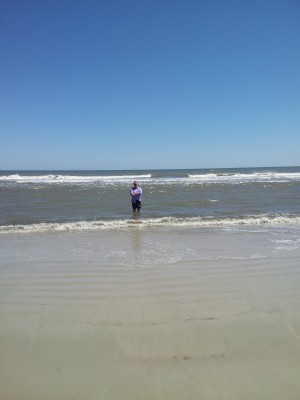 He's still thinking about it…
Candelin has a pair of mourning doves nesting in her grotto. She read that the male dove sits on the eggs all day, and the female sits on the eggs all night. David got some good photos of the daddy bird taking his shift.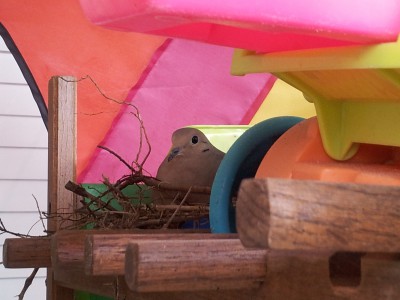 The four of us went out to watch the sun go down at a local park.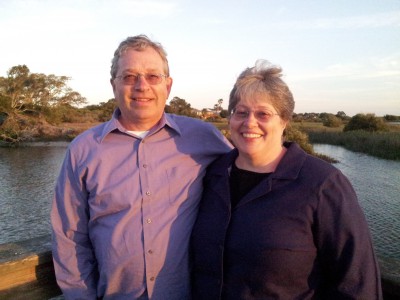 This is where I glimpsed the first dolphin of my life. It was a small one, and we only saw its dorsal fin a few times, but that is more than I've ever seen before, and I have wanted to see a dolphin my whole life long. Many years ago, when our boys were young, we had taken a trip to the outer banks of North Carolina. We were playing in the waves, even though the water was freezing. Being Vermonters, we were the only ones in the water. We were squealing quite a bit. When David went up to get towels from the hotel room, someone standing up on the bank, in a gazebo, asked David if we saw the dolphins playing in the waves around us. It was bittersweet, knowing they were playing alongside us in the water, and yet we had not seen them. I have always had an affinity for dolphins, so seeing the little dolphin jumping through the water in Florida, was a lifelong dream come true.
The two days we spent with Candelin and George were both exciting and restive. There is something about walking along the beach, collecting shells, and hearing the waves and the shrill cries of shore birds that restores my soul. And the heart-to-heart talks with my good friend, Candelin, is always wonderful. David and I came away feeling restored in mind, body, and soul.
And now, a week after our return from the South, Spring is finally making her appearance here in the Pioneer Valley. The warm sunshine and the soft spring rains are renewing the earth. I don't know if this is true where you live, but this winter was a hard one to endure here. I don't remember one so long and severe since I was a teenager in Ohio. Maybe God is rewarding us for having endured the winter. And maybe the winter was a reminder that we shouldn't take beautiful days for granted. On that note, I'm going for my first bike ride of the season.