It turns out quitting Facebook is not so easy. First step was figuring out how to leave it. After searching around in Facebook itself, I finally gave up and "googled" it. I used these instructions, which were very helpful. So I finally got to the part of deleting it, and the wording was very effective in making me feel like I am doing something I will regret. But I pushed on. I had to remind myself of why I'm doing it… for more peace of mind. I dared to push the button that would "permanently delete" my account. Or so I thought. I got an email instantly that informed me that my account is scheduled to be deleted in fourteen days. In the meantime, if I decide to change my mind, I can go back and cancel the deletion. So just when I thought I was done with Facebook, I can think again.
It's not like I'm considering something drastic, for crying out loud. I get it that when people file for divorce, they need to be separated for a period of time, to reconsider. After all, a divorce means that a family is being broken up. That's a serious decision. But goodness gracious, this is just Facebook I'm quitting. Once I've made that decision, why not let me do it… once and for all?
Okay, rant over and done. Now for the things I am grateful for. I'm enjoying the weather here in the Pioneer Valley, which has become just exquisite: perfect temperatures, breezy and sunny with puffy, cotton clouds casting their shadows across the mountains. There are flowers blooming and the trees are getting their early summer leaves. The dogwoods are blooming — they are my favorite flower on earth.
I appreciate this glorious weather all the more because of the long, hard winter we've just endured. It's like that with so many things in my life… that which I have struggled for I feel the deepest gratitude for.
David and I will be on the road again. Our book tour schedule has become pretty tight in the next few weeks. You can see our whole schedule on the events page of my website. If we are going to be anywhere near you, I hope you will come see us. And please bring your friends… the more the merrier.
David and I will also be visiting several of our siblings and friends along the way. We hope to see you during our trip.
In the meantime, I hope you're enjoying Spring wherever you may be.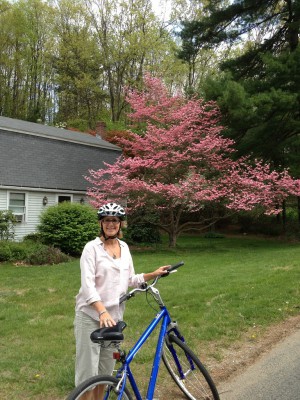 Last year at this time, with my friend, Candelin Wahl