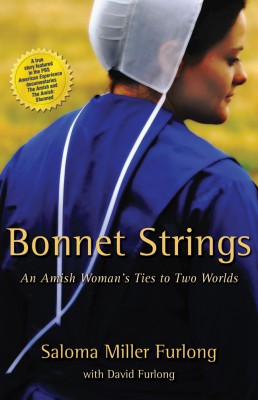 I am offering a giveaway of three copies of Bonnet Strings: An Amish Woman's Ties to Two Worlds. Simply leave a comment, and I will add your name to the drawing. I will draw for the winners on Saturday, January 30.
This giveaway is inspired by several things, most recently a review written by someone calling himself easyEZ. I was moved by the level of understanding coming from someone who reveals that he has also emerged from the Amish culture. I hope he doesn't mind me quoting him here. Because I don't know who he is, I cannot ask him for permission. Given he has published the review, I am hoping he won't mind me inserting an excerpt.
There are very few valid representations of Amish life, not to mention noncompliant Amish life. In Bonnet Strings, Saloma set what hopefully will become a standard for works involving Amish issues. My only disappointment is that the book ended. She delivered spectacularly, but now I want more! Not necessarily about her and David. That would be tough act to follow, but the field of Amish literature is mired in horrendous poverty! It needs you Saloma! How about it?
Thank you, whoever you are, for this thoughtful review. I hope you will introduce yourself. In the meantime, I would say that we need more than one authentic Amish voice. Will we get to read your story? Because I dare say you have one to tell!
For two years I've been scratching my head, trying to figure out why in the world Bonnet Strings has not become a more popular book. It has all the elements of a romance set among the Amish, but it is far more authentic than the Amish romance novels out there. In addition, I appeared in "The Amish: Shunned" that aired on American Experience at the same time Bonnet Strings was being launched. Herald Press and I were expecting that the book would take off.
My first surprise was that there was no mention in the film that I am an author, nor was my last name mentioned. So when I went out in public people often recognized me from the film, but they didn't know I was an author. There really was no way for them to know.
So the level of book sales that Herald Press and I were anticipating never materialized. And neither did the book reviews accumulate very fast. For a while, more copies of Why I Left the Amish were being sold, and it was garnering more reviews. I finally stopped going to Goodreads because I didn't want to be disappointed.
But something curious was happening. The reviews of Bonnet Strings were more positive than many of the ones I've gotten for Why I Left the Amish. I've had trusted friends tell me that my second book was better written. I agree with them. As I've mentioned before, this is mostly because of the excellent editing I received from Valerie Weaver Zercher at Herald Press. And I like to think I've evolved as a writer, too.
Something else was happening. I had many people writing to me, telling me how Bonnet Strings had touched their lives. People from intercultural relationships. Those who grew up in abusive families. Those who left oppressive religions. Those who have acquired college educations against all odds. Those who related to the feeling of thriving after working through struggles in their lives. The list goes on.
I never felt comfortable asking these people to write reviews on Amazon or Goodreads. I wanted to respond to their stories, without pressure for them to put their feelings out for public consumption. And I also felt it was too bold and too self-centered.
So when the review by easyEZ popped up out of nowhere the other night, it was affirming what I have been feeling — that there is a wave of new interest in Bonnet Strings. I mentioned earlier the reviews that appeared in Feminist Collections and by Seattle Book Mama. I began giving away books as gifts. I offered a free copy of Bonnet Strings with every book sale directly from me, so sales picked up around Christmas. Incidentally, today I am extending that offer until March 31.
After reading the review on Amazon, I went to Goodreads and was pleasantly surprised to find recent reviews of both my books. I am grateful to all the readers who have taken the time and shared their impressions.
I want to move everything out of the path of this new wave of interest. You can help by signing up for this giveaway and inviting your friends to do the same. If you already have a copy of my book, feel free to sign up anyway and if you win, give it to a friend as a gift. Thank you for helping to keep the interest flowing.