Somewhere over the rainbow, skies are blue, and the dreams that you dare to dream really do come true. ~ Lyman Frank Baum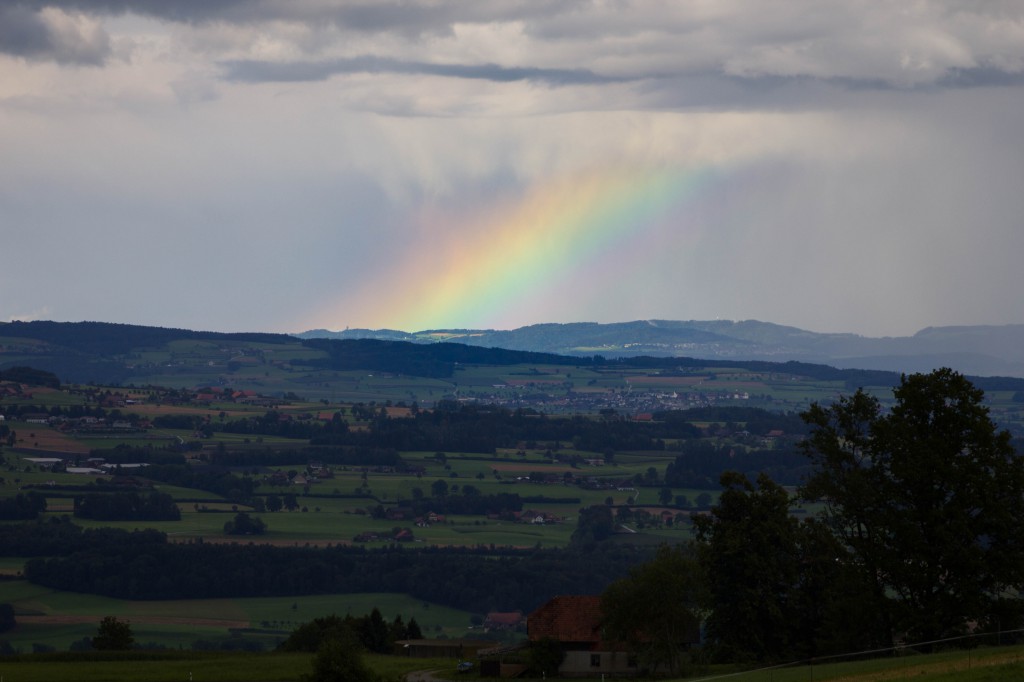 Photo by Marco Koch, taken from the Trachselwald Castle in Canton Bern
Last year I blogged about my dream of studying in Germany. I did nine months of background research and I networked with many professors on both sides of the Atlantic before I submitted my Fulbright application at the end of September. Here is the abstract of my proposal:
I intend to delve into the annals of German history to discover how the Anabaptist ancestors of the American Amish educated their children in Southwest German lands before they began emigrating to the U.S. Because Amish cherish a strong sense of continuity with their European ancestors, these practices may well have carried over to North America where the Amish of today uniformly end their children's education at eighth grade.
I found four professors in Germany who offered to advise my research. Together, they cover several aspects of my research: history of education, religion, Anabaptist social history, and Anabaptist religious history.
Once I submitted my application, I moved on to other pursuits to make the waiting easier. I knew I would hear in January from the American Fulbright Commission, and that the final decision would then be made by the German Commission.
Right on time, on Friday, the 15th, I received an email from the National Screening Committee. Here is how the email started:
We are pleased to inform you that you have been recommended as a semi-finalist by the National Screening Committee of the Institute of International Education (IIE) for the 2016-17 Fulbright U.S. Student Program. Your application has been forwarded to the supervising agency abroad for the next stage of the review process. In addition, your application will be forwarded to the program sponsor, the Bureau of Educational and Cultural Affairs of the United States Department of State, for transmittal to the presidentially-appointed J. William Fulbright Foreign Scholarship Board (FFSB). The FFSB makes final decisions on Fulbright awards.
The Fulbright Commission in Germany is scheduled to notify candidates of their decision by mid-February. It is hard not to become anxious about it, but I tell myself that if it is meant to be, then I will get it. If not, then I have to accept that it is not meant to be and that there is another plan for my life that I will need to discover.
That said, I feel very good about the project. Donald Andrew, the coach at Smith College, has an excellent track record. The percentage of candidates who end up receiving a Fulbright is very high. Last I heard it was around 75 percent. Coupled with the support from the professors in Germany and the positive feedback from the people I've corresponded with about my application, I think my chances are high. Certainly they have improved greatly by making it past this first hurdle.
As soon as I have the final outcome, I will let you all know what it is. And as always, thank you for your support.