It's been a while since I've posted here. My life has been full. I took on a temporary employment position at a publishing company here in the Pioneer Valley and that assignment ended last week. During the six weeks I was working there, I had little time to clean my house, so the dust bunnies were multiplying in all the corners. This weekend I declared war on them, along with the collections of clutter that seemed to have a life of their own. In one collection of "stuff" I found a thimble. Perhaps it was where I found it, in the corner of our built-in bench in the front hallway, that brought back memories of playing "hide the thimble" (also called "I spy") when I was a child. On winter evenings or Sundays, it was a favorite game of ours to each take a turn to hide the thimble somewhere in the living room with the doors closed and then we'd open the door and let everyone in to see who would be the first to say, "I spy."
Datt loved to play "I spy" with us. On one winter evening, he called us all into the living room after hiding the thimble. He sat in his hickory rocker and watched us go about the room, looking for the thimble. After a few minutes, no one had yet found it. I kept looking at Datt, to see where he was looking. But he kept looking down at his feet. I looked at his shoes, but the thimble was not attached to one of the hooks in his shoes, where he sometimes hid it. Nor could I find it on the shelf next to the clock or on the window sills, or any of the other hiding places. Finally we all told Datt we give up. But he still didn't tell us where it was.
I don't remember if someone finally did see it, or whether Datt finally told us. But it was a clever hiding place, either way. We had one of those red Coleman gas lanterns hanging from a hook on the ceiling. At the top of the lantern, there was a little metal piece that threaded onto the stem of the lantern to hold it together. It was the same color as the thimble, but not as big around. Datt had put the thimble over the top of that, so that the thimble looked like it belonged there.
The thimble had been on top of the lantern long enough that it had become to hot to handle and Datt had to use a potholder to take it down.
This memory then triggered another one. I will never forget how hard it was for me to use a thimble. My mother tried to teach me how, but I just I could not get used to that hard metal thimble on the end of my finger. And then it would fall off and roll across the floor. I became so frustrated. I finally told Mem I would learn how to sew without one. Mem, in her usual fashion said, "Suit yourself."
I soon learned that there are some things that simply could not be sewn without a thimble. Quilting was just impossible without one. I tried. But when I had worn a little hole in the tip of my quilting finger, and I could feel the needle finding that hole every time I was pushing the needle through the quilt, I knew I had to learn to use a thimble after all. The feeling of the wrong end of the needle inside my finger was worse than the thimble. Mem must have known that I would eventually learn on my own, so she was wise in not pushing the issue.
It's funny how something as small as a thimble can trigger childhood memories like that.
Did you play "I spy" as a child? What other games? Will you share?
In the spirit of playfulness, I am including a photo of the nick-knack shelf we inherited from David's parents. Somewhere on that shelf is the thimble I found the other day.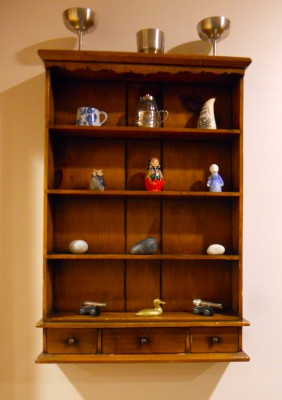 Can you find it?