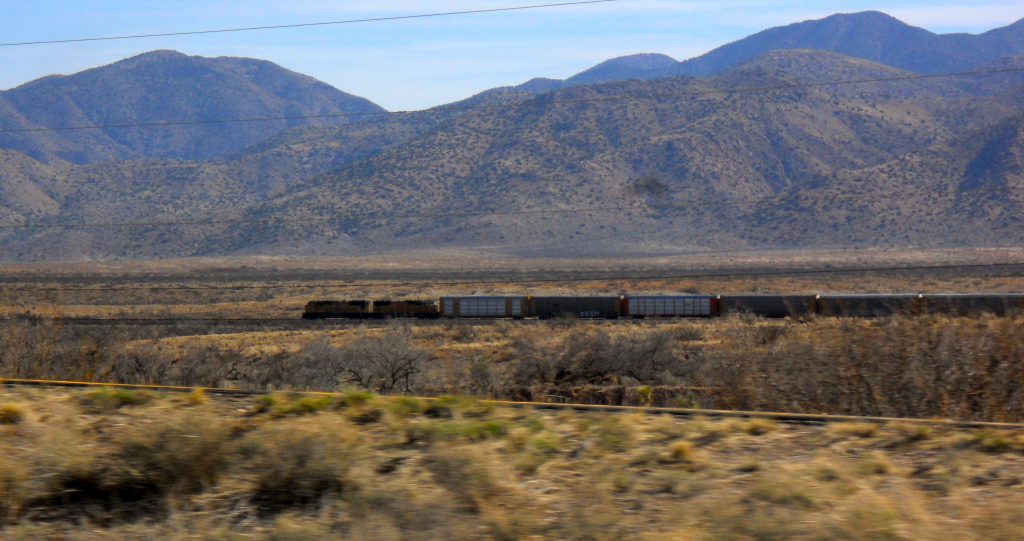 Every time I saw a freight train during our trip to the Southwest, I thought of Datt. He loved trains. He seemed to have a nostalgia for them, likely from his days of working on the railroad when he was in his twenties. He had left the Amish to join the military when he was 18. This would have been in 1936, so he could have ended up in WWII, except that he apparently burst his eardrum when he shot off a gun too close to his ear. He was discharged after that. He subsequently got a job as a brakeman on the B&O railroad. I have five years of his time sheets, but I believe he had the job longer than that.
Datt was touchy about talking of his days out of the Amish. If anyone brought up the fact that he had left the community, he would become angry and defensive and forbid us from talking of that time. Yet he couldn't resist talking about his job on the railroad.
I remember whenever I saw Datt around a train, he would count train cars as they went by. And wouldn't you know, I found myself doing that more than once during this trip. Some trains were longer than 100 cars. Many of them were carrying containers from the shipyards. We saw lots and lots of Costco labels, as well as China Shipping and OOCL (whatever that stands for). There were others that I'm not remembering at the moment.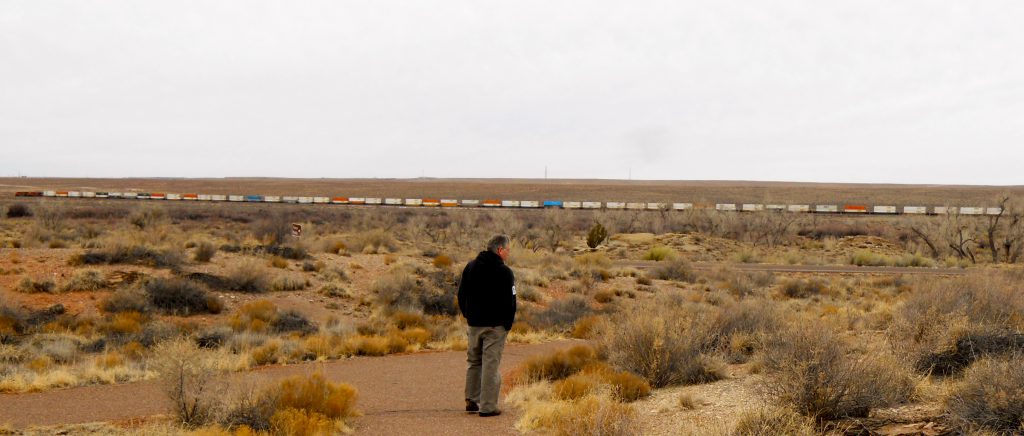 David and I were both surprised just how many freight trains go streaming through the desert. It seems they are part of the landscape. Sometimes they were spaced only five minutes apart from one another. So often when David and I are on road trips, he repeats his mantra, "Every one of these trucks should be riding the rails!" During this trip, we drove between 3,500 and 4,000 miles, and I didn't hear him say it even once.
Below are several more of train photos from the trip.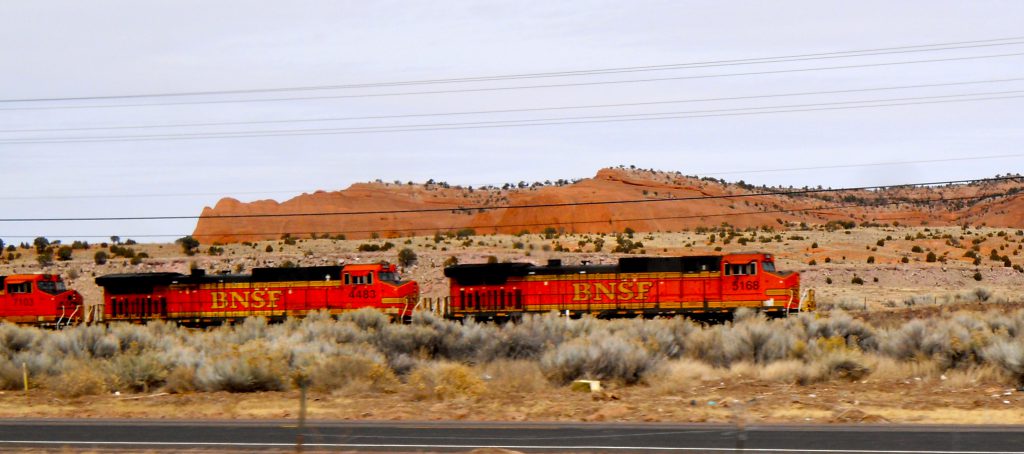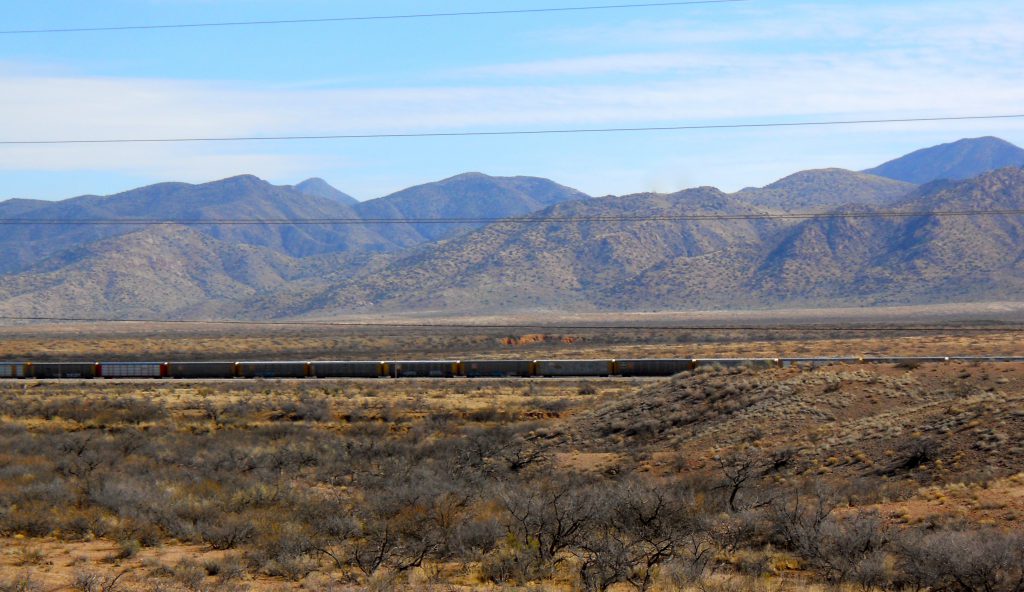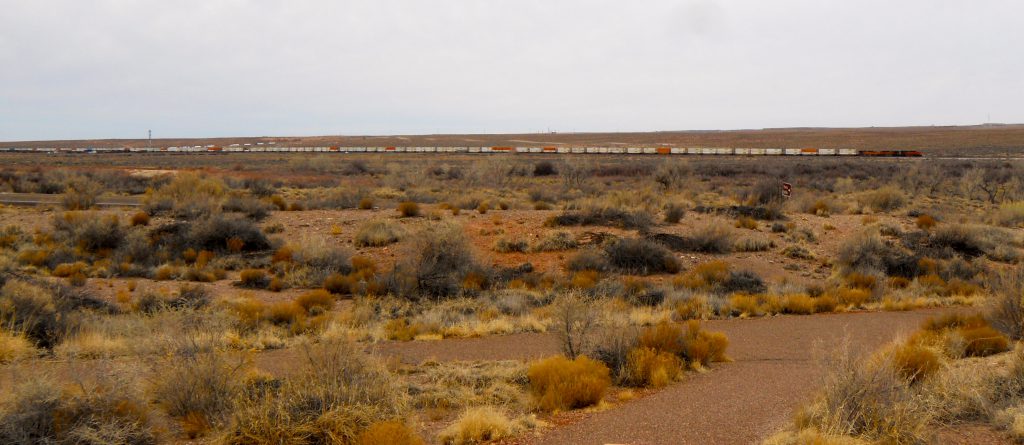 I also frequently thought of Mem during this trip to the Southwest, but for a very different reason. There were times when I felt her spirit close to me. I knew that she'd taken a cross-country trip when she was 29 years old, three years before she got married. She kept a scrapbook of the trip, which one of my siblings ended up with. But at some point, I had transcribed the journal part of the scrapbook. I didn't have a scanner at the time, or I would have scanned the photos she had in there.
During my travels, I wished I had re-read her journal before going on this trip. I knew she had been to some of the places David and I visited. Upon my return home, I did read it, and I found I had been to more of the places she'd visited than I knew. In my next blog post I'll be writing more about this.