As promised, I am bringing you part of Mem's travel journal from her cross-country trip. Her trip began out of Middlefield, Ohio on May 1, 1950, when she was 30 years old. I am now 60, twice the age Mem was when she took this trip. I thought of her often during my trip out West. I tried to imagine what she was like when she was 30, unmarried, and with her friends.
The beginning of the journal reads:
Our Trip to Monrovia, California
The Group
Elizabeth E. Miller – Mary Kempf – Katie Miller – Jerry Reeves – and myself –
Driver Mrs. Marjorie Burdick
I know Mem and the group made it all the way to California, but she left her audience at the Carlsbad Caverns on May 22 after visiting Mexico twice. That is where her journal ends.
The parts of the journal that overlap with the trip David and I took are the focus of this post. I've included in brackets details that are important that I gleaned from earlier entries in her journal. I've also corrected her spelling so as not to be distracting. Because I no longer have her photos to go along with the journal, I will add photos in the appropriate places from those I took on my journey .
Tuesday, May 9, 1950

Started out around Santa Rosa [Texas] around seven o'clock. Stopped at the New Mexico Museum. Also had a nice ride on a stage coach with four horses. Here is where Mary and Katie got their eye on a cow boy.

Stopped and each had a good drink of cherry cider. Riding up in the mountains makes a person want to drink. Also stopped at Kit Carson's Cave. We saw all shapes and all sizes of mountains. I can not explain the beauty and scenery that can be seen here. I can not blame the Indians for building their homes in these places.

Crossed the Arizona border at 4:15 P.M. Went around the painted desert. Saw lots of petrified wood for sale. The painted desert is beautiful at sun set. The rocks are all colors and when the sun sets there are different layers of different shades of different colors. Is another one of natures' own wonders.
It is obvious that Mem had a sense of wonder of places like the painted desert. I am my mother's daughter. Besides the Grand Canyon, my favorite place to visit was the Petrified Forest National Park. I will be writing more about this in another post.
We saw the Painted Desert on a cloudy day and it was stunning. I can only imagine what it would be like during sunset as Mem described it. Below are several photos I took.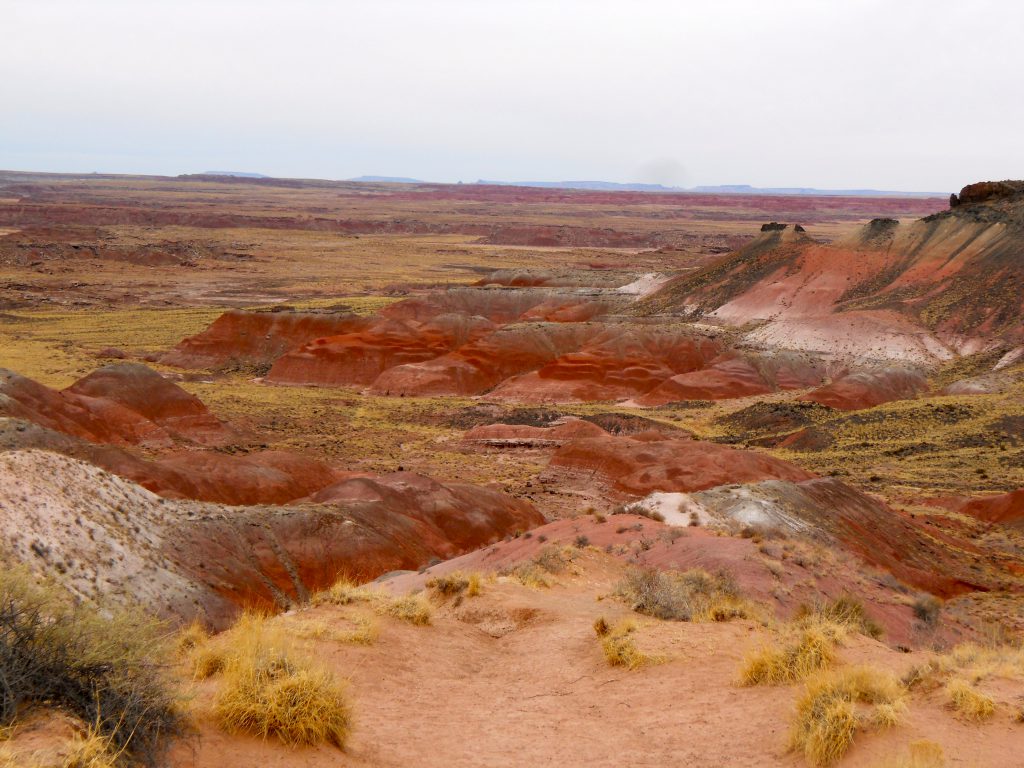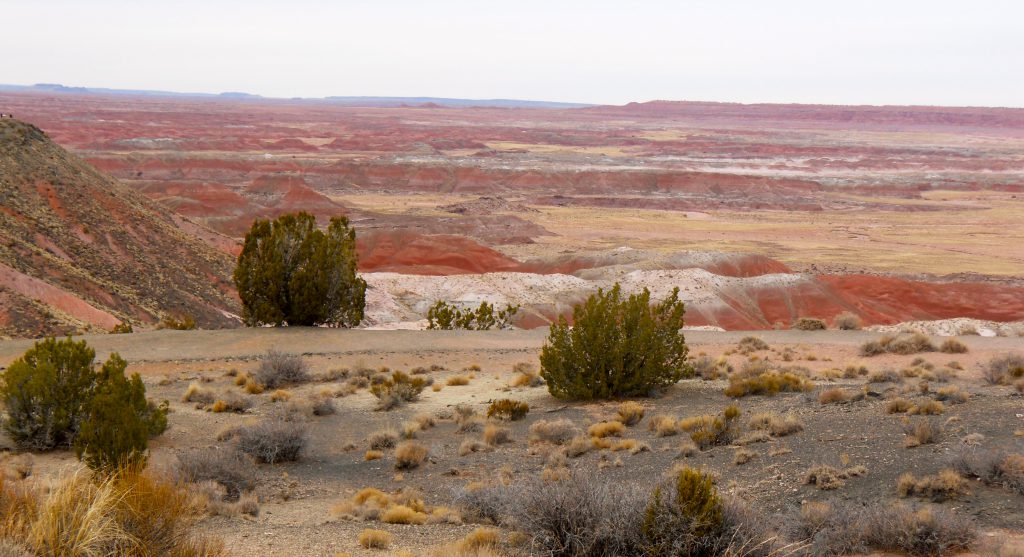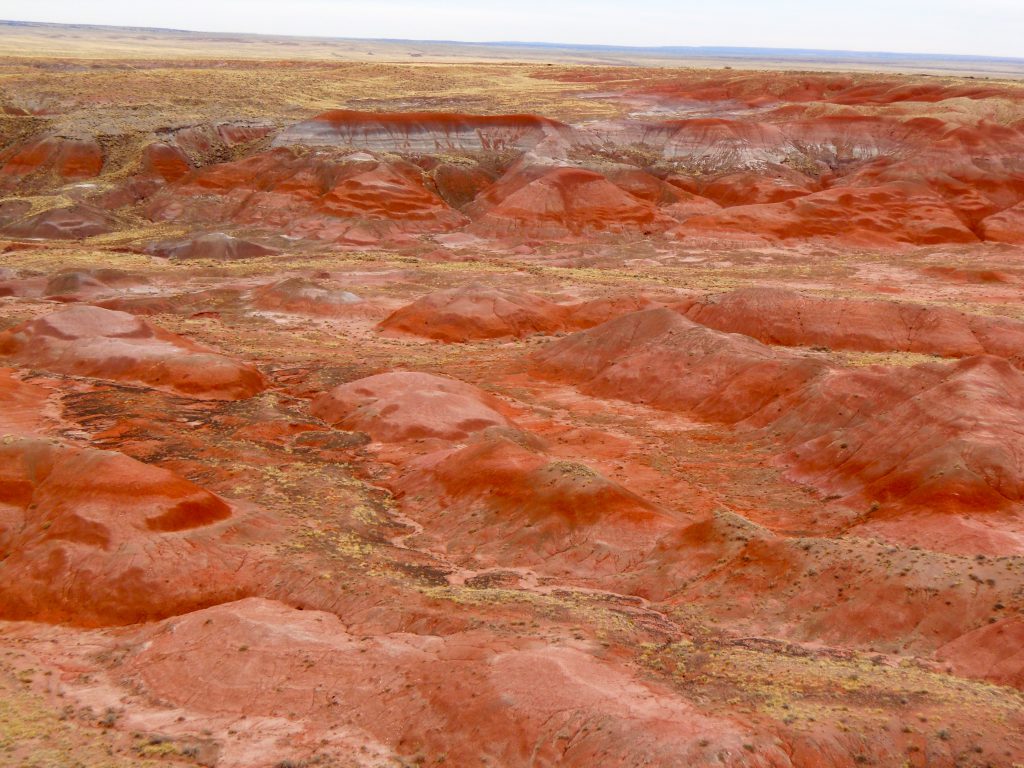 Here is Mem's next journal entry:
Wednesday, May 10, 1950

Went to Clark Café for breakfast and had ½ grapefruit, 2 doughnuts and coffee for 41¢. Mrs. Burdick had the car looked over. We then went to the stratified forest. We girls and Jerry walked over 1 mile of it and it sure was worth it. Had our dinner in a café near the Petrified Forest. Were all hungry. Katie and I had hamburger steak, ice cream and coffee $1.00.

Started off for Grand Canyon around 12:30. Saw snow topped mountains 13,000 feet above sea level. We could see the snow 200 miles away. Right after lunch we headed for the mountains over looking Grand Canyon to see the Indians war dance. We then went to a cafeteria-style restaurant $1.29.
Can you imagine getting those kinds of meals for those prices? How times do change!
David and I did not go to the Stratified Forest because we didn't know about it. I believe the snow-topped mountains Mem would have seen would have been the San Francisco Peaks near Flagstaff. I posted photos of those Peaks in my last post. Here is a reminder photo:

Thursday, May 11, 1950

Went sight seeing [at the Grand Canyon] all A.M. Walked down part way. We refused the mule ride down and back for $5.00. But on the way back, had we had a chance we would have been glad to accept it for we had a hard time climbing up. We stopped ate some apples and Ritz crackers paid 80¢. Stopped at Williams and ate ice cream, cherry pie, and coffee 36¢.
Here Mem doesn't describe what it was like for them to get their first glimpse of the Grand Canyon. There is nothing quite like it. David and I just couldn't take in all that Beauty at once. As we stood at the rim and looked out over the colorful formations, it was like trying to fathom the depth of the ocean. The vastness, the colors, the depth, the breadth. It was all just so awesome and majestic. How can one describe what one feels standing at the edge of one of the World's Wonders created by Mother Nature herself — a creation that took more time than humans can comprehend.
They say a photo is worth a thousand words, but even photos don't do the Grand Canyon justice. Below are a several of my attempts.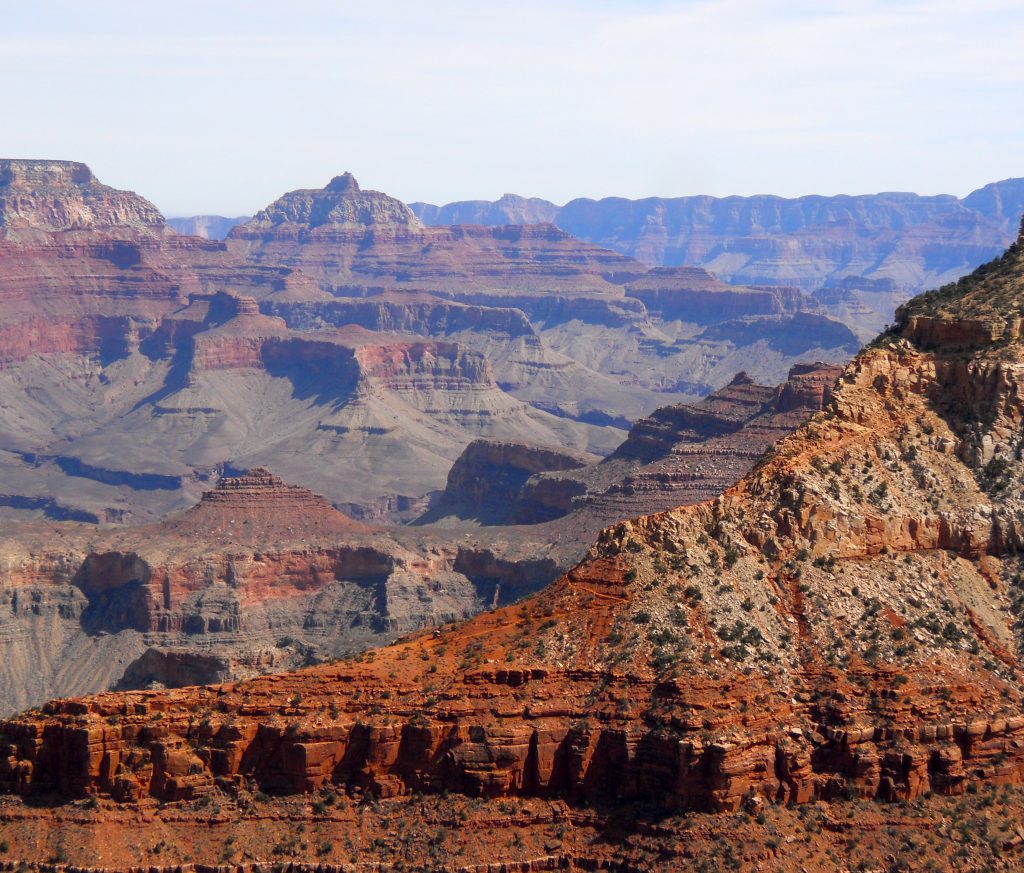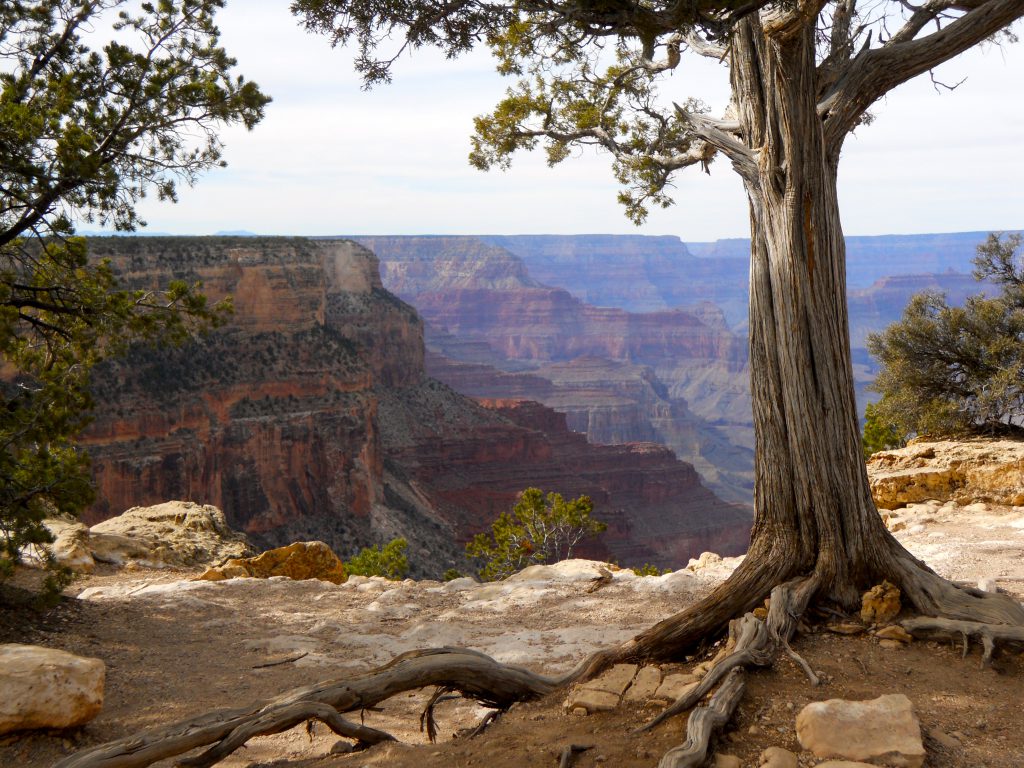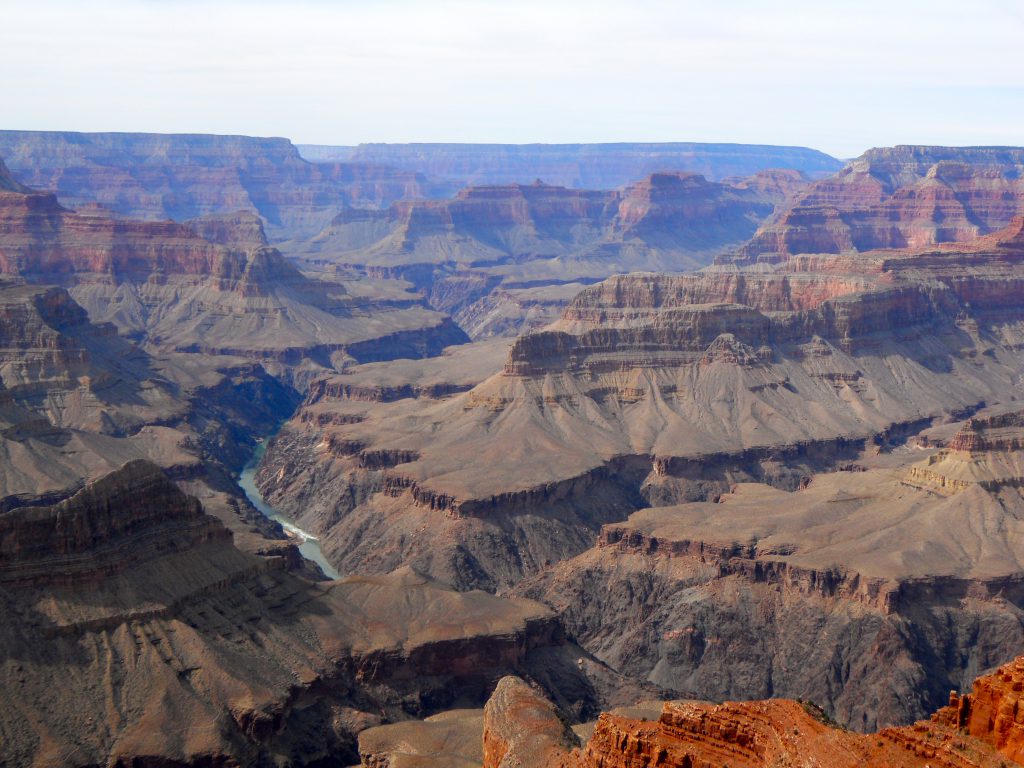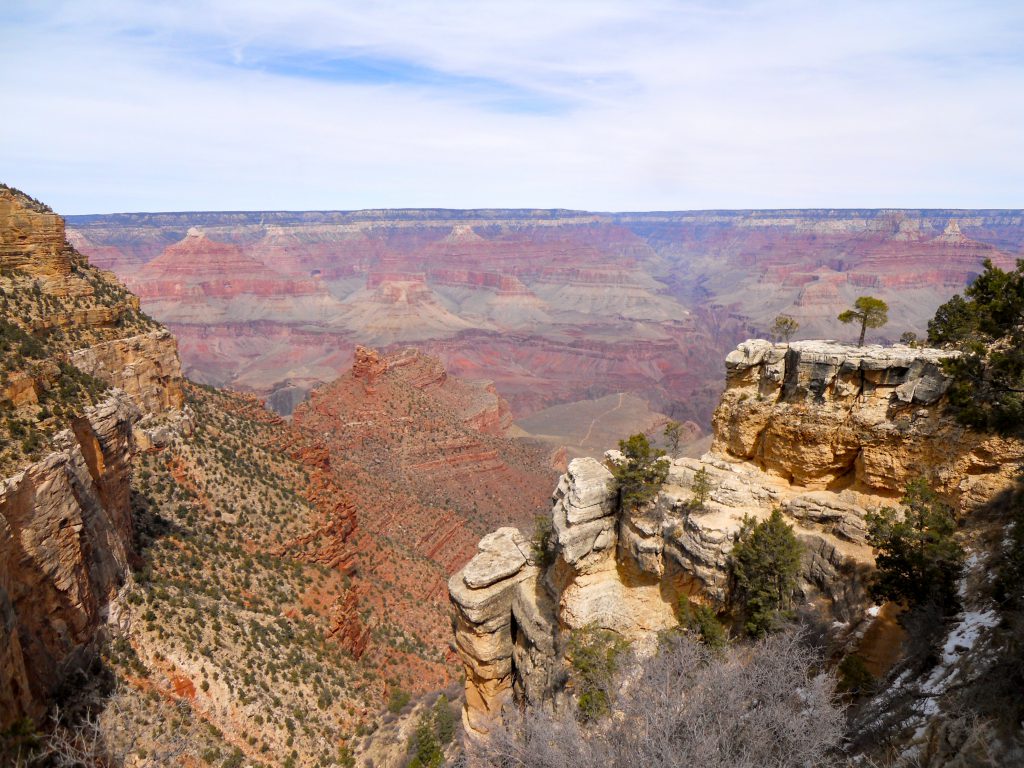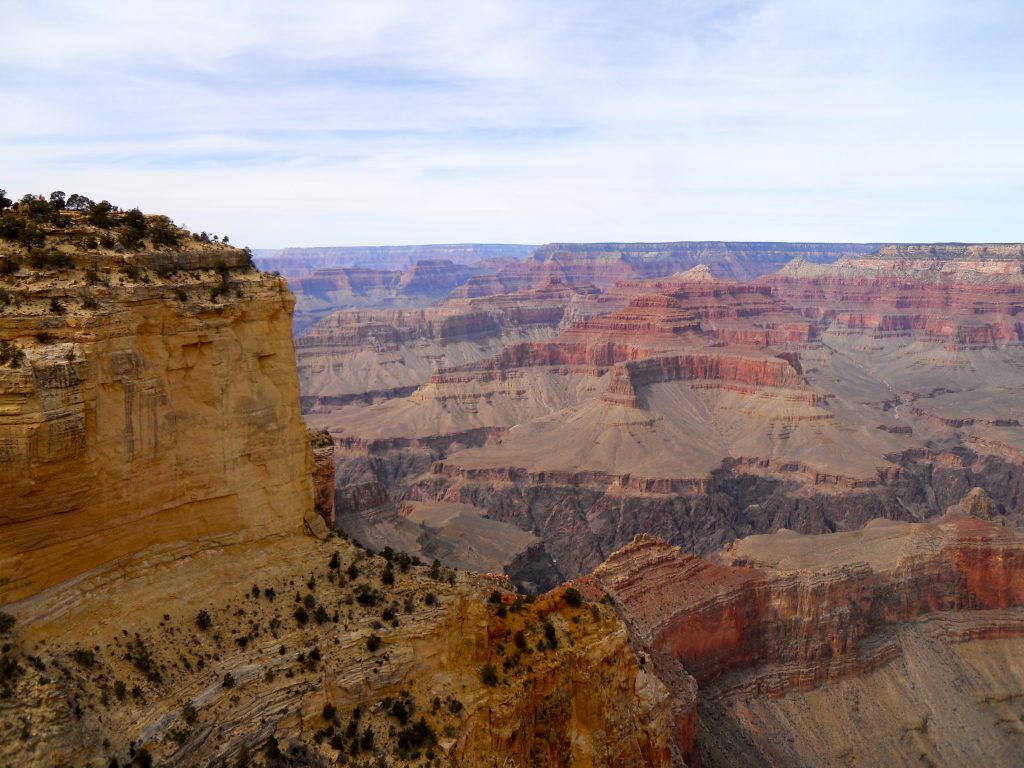 Saturday, May 20, 1950

I had a cinnamon roll and coffee. Started out [from Dateland, Arizona] 20 after 7. There isn't much to see through the lava desert except black lava and a few different kinds of cactus. Followed R. 80. About every 35 miles we came to a gas station. Passed a dead cow by the side of the road. People have no fences here.

Part of the desert is now farming sections that are irrigated from the Boulder Dam. Other parts are as dry as ever. From R. 80 we picked up 84.

Stopped a few times to take pictures of cactuses. Some were as big and high as the telephone poles. Went back on R. 80 in Tucson. Mary's cap went flying out the window but found it again.

Stopped at a Donkey Inn Restaurant. We each had a spaghetti dinner. Was a real good big plate for 85¢. Coffee was free with the meal.

Drove through Texas Canyon which is a mass of rocks. Stopped at Wilcox, Arizona around 3:50 P.M. Stayed at Frank's Courts overnight. We bought 1 pint of ice cream, crackers and cookies and ate in the cabins.

When we were in town we met a Mrs. Bacheller which was very nice to talk to. She took our names and addresses. Paid 68¢ for my supper.
This entry is the one that surprised me. I hadn't remembered that Mem had gone through Tucson or Texas Canyon. Below is a photo David took when he was at the Saguaro National Forest, just outside of Tucson, while I was attending a memoir workshop.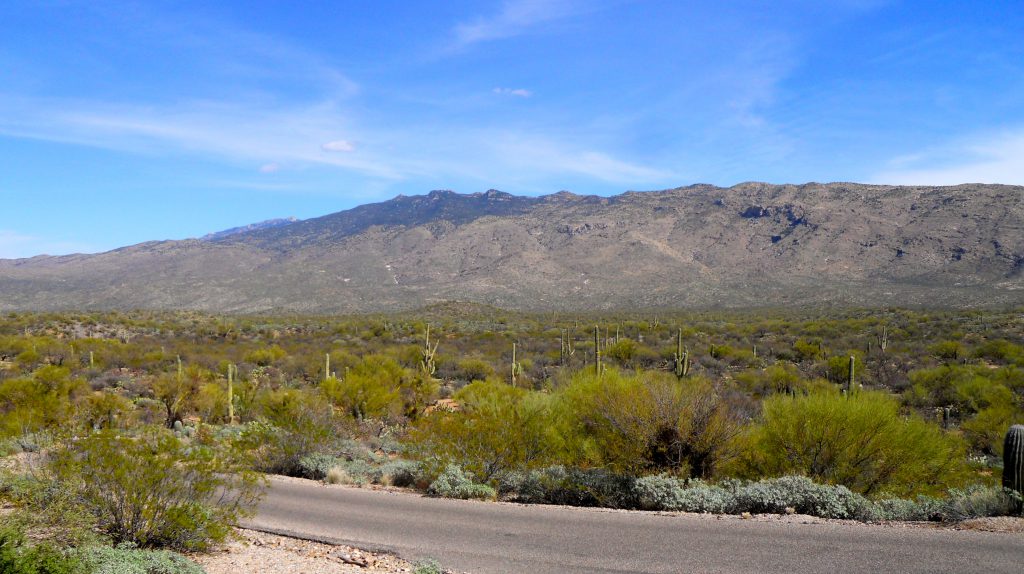 I had mentioned Texas Canyon the other day, and posted a photo from it. When I think back, it is a coincidence that we even stopped there. I had been doing the driving for a few hours, and I pulled into a rest stop so that David could take over the driving. Once there, I could not stop taking photos, I was just so amazed by the rocks and boulders.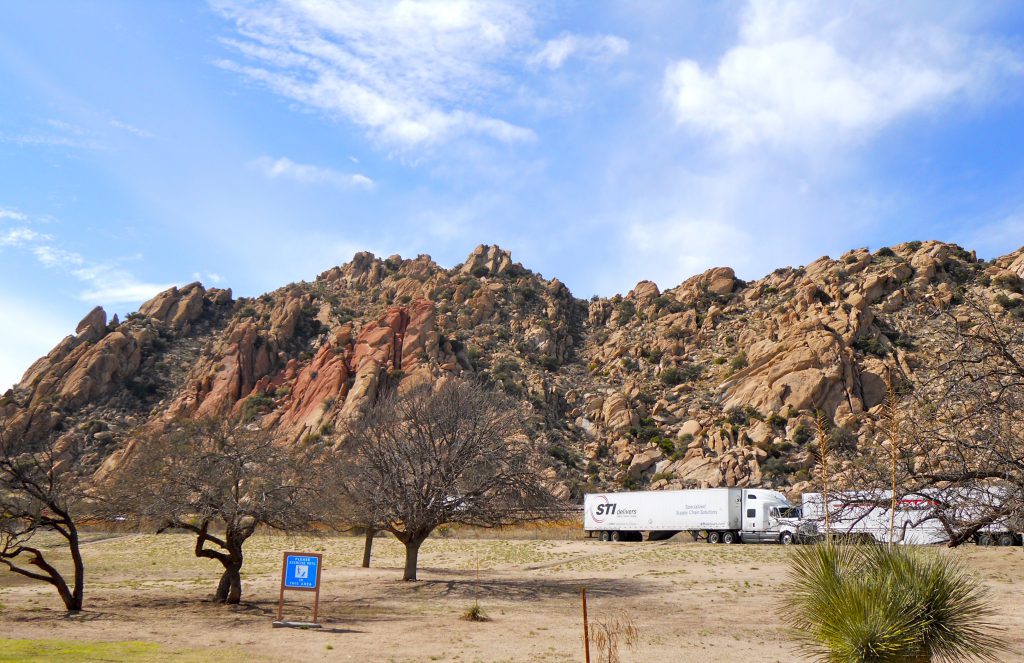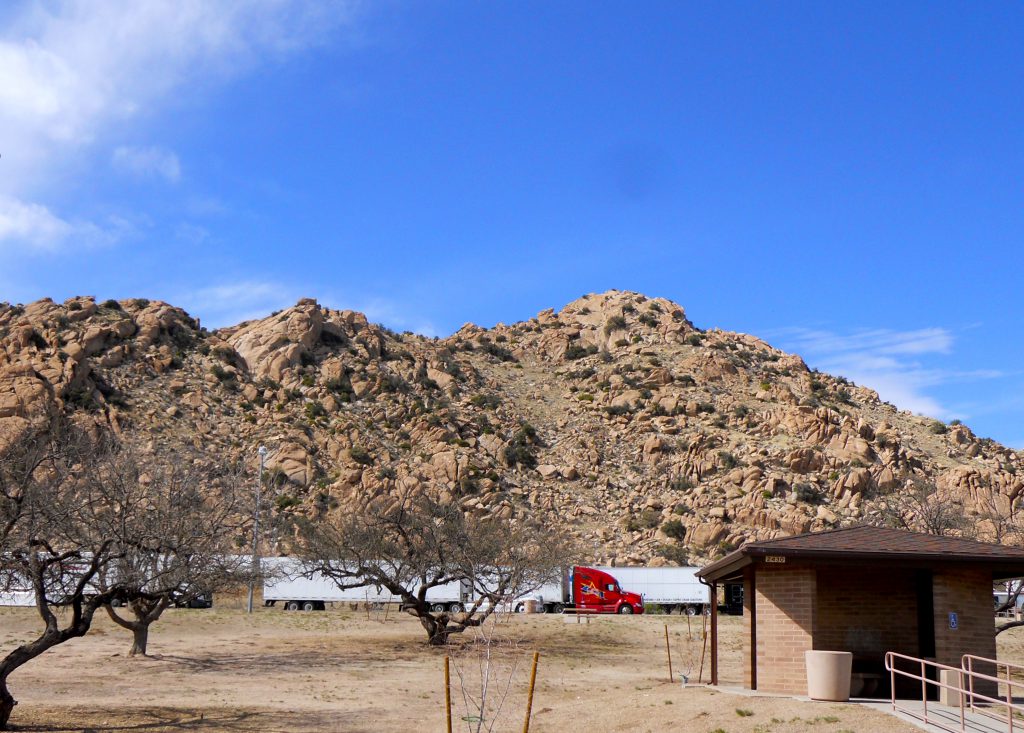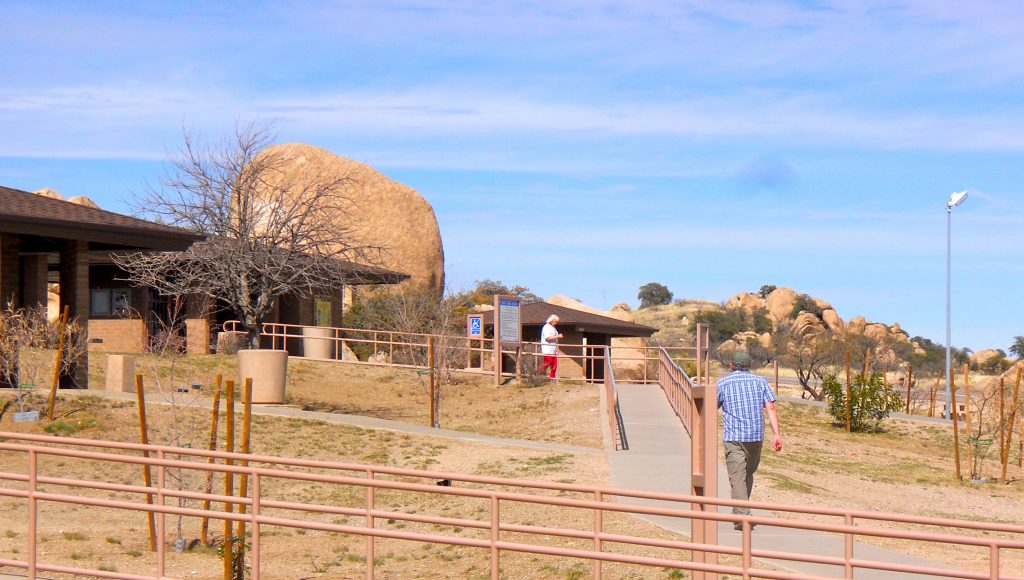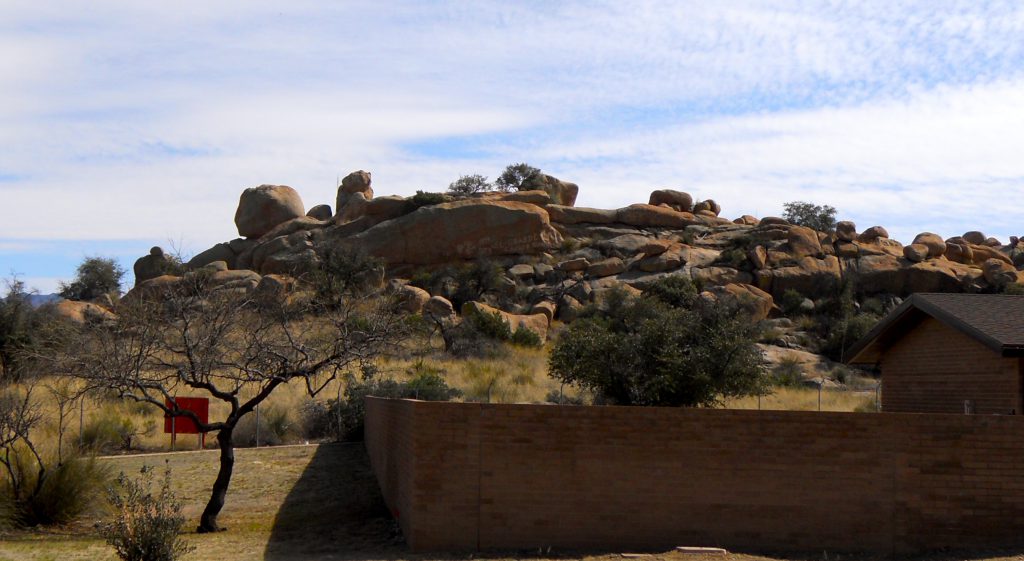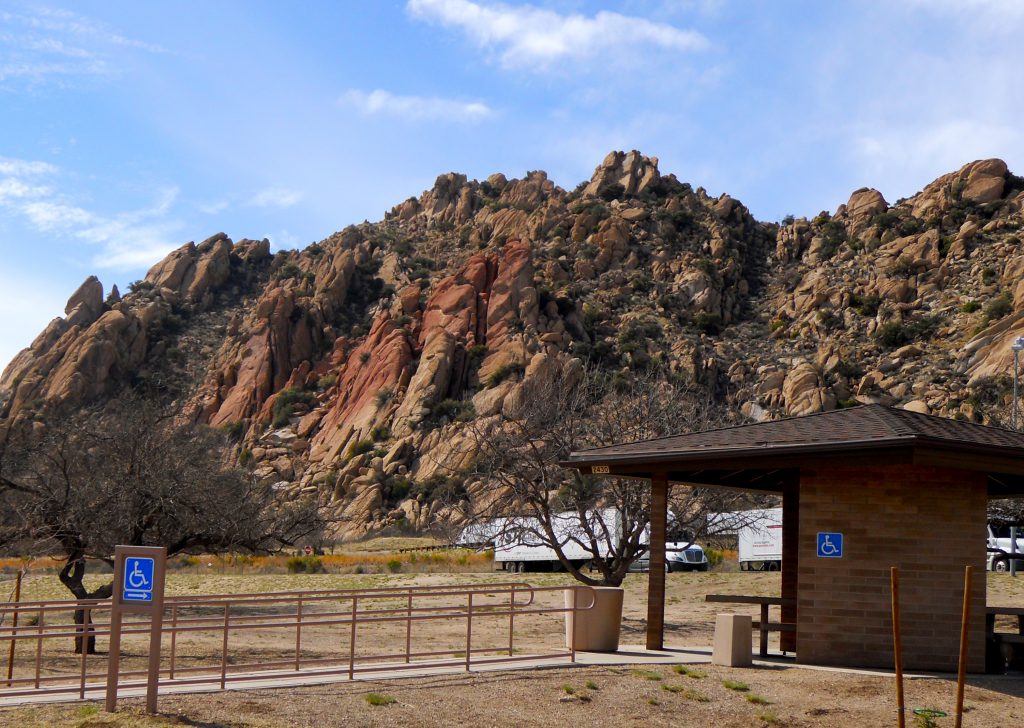 Mem had gone on this trip with other "old maids" from her Amish community. This was not a good status at the time — women who were single at that age were considered "left over." During my trip, I realized there were advantages to this status: it afforded her the privilege to travel across the country, which was quite unusual for women of her generation. I'm glad she enjoyed that trip before she married and had children.
This may sound really strange, but I have always wished I could have known Mem before she became my mother. Taking this trip and reading her travel journal has allowed me the feeling of going back in time and "meeting" her as a young woman. I feel like she was fun-loving and gregarious when I see her helping to find her friend's hair covering that had blown out the window in Tucson, hiking down into the Grand Canyon and wishing she could ride the back of a mule coming out, or teasing her fellow travelers about "cow boys." I'm fairly sure she wasn't averting her eyes from those cowboys.
There was a way in which I recognized Mem in this journal. She always loved food. (Nowadays she'd be called a foodie).  Whenever she knew we'd eaten at a restaurant, she'd ask, "What did you have?" I noticed she answered that question every day in her travel journal.
There were times during this trip when I felt led to the places we visited. The coincidence of stopping in Texas Canyon is just one such example. The Tucson Festival of Books is the only literary award I've ever won. The fact that this took me to the Southwest is another coincidence. Making such a trip was on my list of things I wanted to do before leaving this earth, but whether I would have without this kind of a prompt, I will never know. I am glad I had this opportunity to visit some of the same places Mem had visited. It was a privilege and an honor. It was a long way from Middlefield, Ohio — for Mem and for me.