This past week, I had an urge to visit the places where I grew up. So David and I took an impromptu and quick trip to northeastern Ohio while we were still having Indian Summer. My thoughts go to that area this time of the year since both of my parents died in autumn: Datt in 2004 and Mem in 2005.
Going back to my original community was like taking a trip down Memory Lane, and it was also a reminder that one can never go back. For me it was also a reminder of why I wouldn't want to go back.
So much has changed in the immediate vicinity of my childhood home. We lived at the end of a little dirt road called Hale Road. There was one house within sight, and that was across a lane from ours. There was a little road (more like a lane) called Durkee Road that led east of us. We would sometimes use it for a shortcut out to a main road. Durkee Road wound through the woods, down a hill, crossed the railroad tracks, past Grandview Golf Course, and intersected with Route 608, or Old State Road. Our little dirt road was occasionally graded in the summer months, but it was not plowed in the winter, so it wasn't passable by car. Several people got their cars stuck trying to drive it during mud season. Today it remains a dirt road, but there are at least a dozen houses between "the home place" and where the golf course used to be. At least half of these are Amish homesteads. I took a picture through the woods of one of them.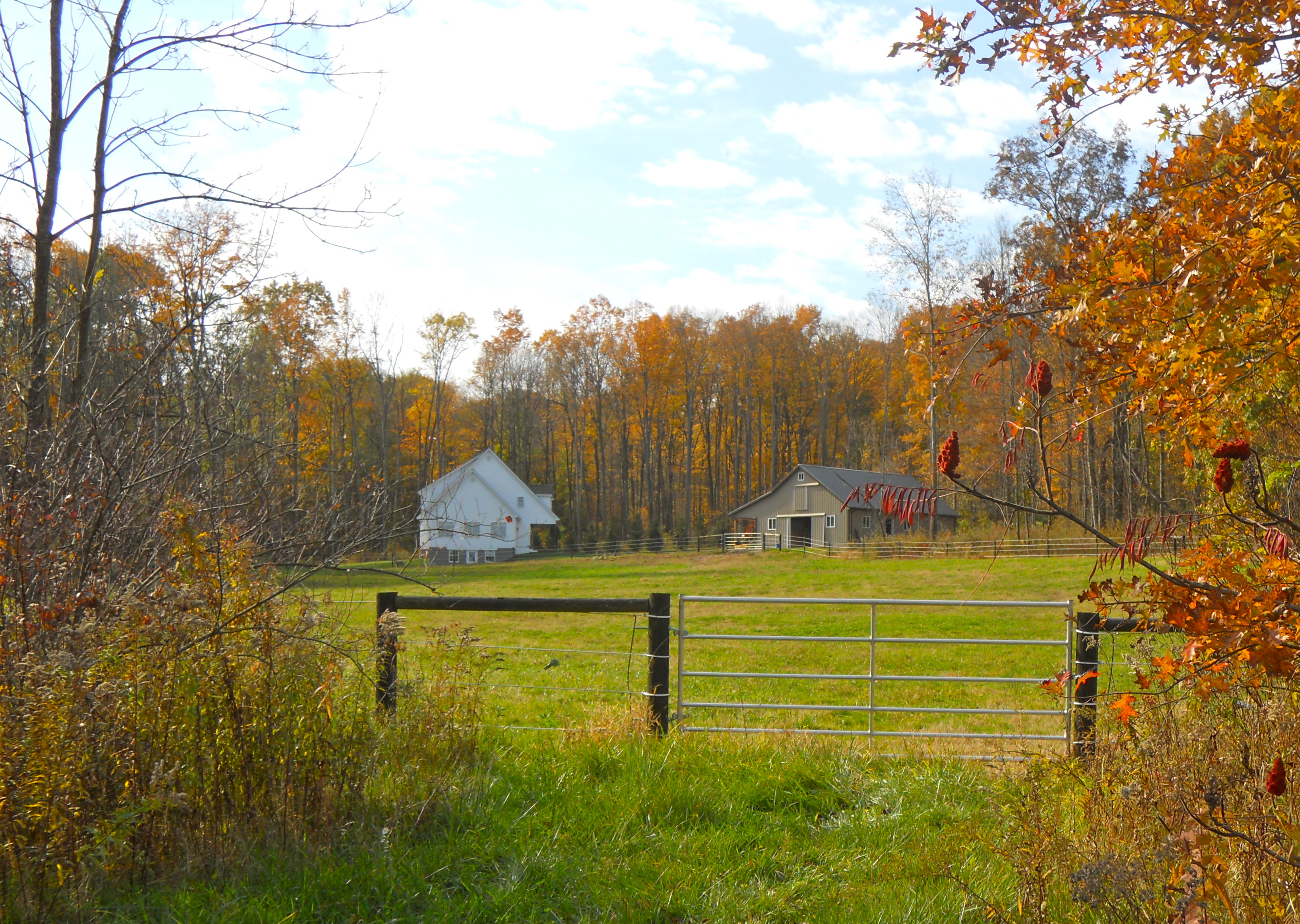 There are homes cropping up all around my childhood home, most of them Amish. I discovered through the latest version of the Ohio Amish Directory of Geauga and surrounding counties, that the church district I was part of has been divided into two districts, and no wonder. The Amish community there is growing in leaps and bounds. When I was living there, the area had 33 church districts. As of 2018 when this directory was updated, there were 123 districts. Some of these districts have as many as 37 households. I cannot imagine how big the community would be if all the Amish who grew up there had stayed. Geauga is the mother settlement to several daughter settlements in places like Munfordville in Kentucky, Clymer in New York, Cashton in Wisconsin, and others I don't know about.
I noticed an increase of wealth among the Amish of Geauga County, judging by the size of their homes and where they're settling. I know the cost of land has to have increased greatly. We saw a lot of vans of Amish "taxi" drivers. The Amish have had their own version of Uber or Lyft for decades. These taxi drivers are expensive. Back when I was still living there, they used to charge 60 cents per mile, and that was when gas was cheap. I have no idea how much they charge now. And then there are the horse and buggies they maintain. They are what we would have considered "fancy" back then.
When Mem was ailing, my brother provided her with an electric lamp to read by. This lamp was built into an end table, under which there was a space built for a car battery. This allowed her to read at night without having to power up the dangerous gas lamp the Amish used in the area at the time. As soon as she died, that lamp was whisked away from Joe and his family to be used by someone else who was elderly and couldn't handle lighting a gas lamp. At the time I smiled and said to David, "You watch, some years down the road, all the Amish will have these lamps to light their homes." Sure enough, that day has come. We were in a store where these lamps are being sold. They are LED lights mounted on a metal pole, attached to a stand that holds the car battery. Many of the Amish homes have at least one solar panel. Most likely this is how they charge their batteries.
To some this seems hypocritical to have electric lights, even though they are not allowed to be connected to the grid. But I think it's innovative. How many of us want to be hooked up to the grid? I'd much rather rely on the sun for power.
I discovered another innovation that I think is fantastic. Some months ago, I wrote about the idea of Amish buggies and bikes sharing the same road and then found out it was already being done. I had no idea until Katie Troyer informed me, that this was happening in my home community. There is now a 22-mile rail trail between Middlefield and Chardon. The southern end if this is shared by pedestrians, cyclists, and buggies.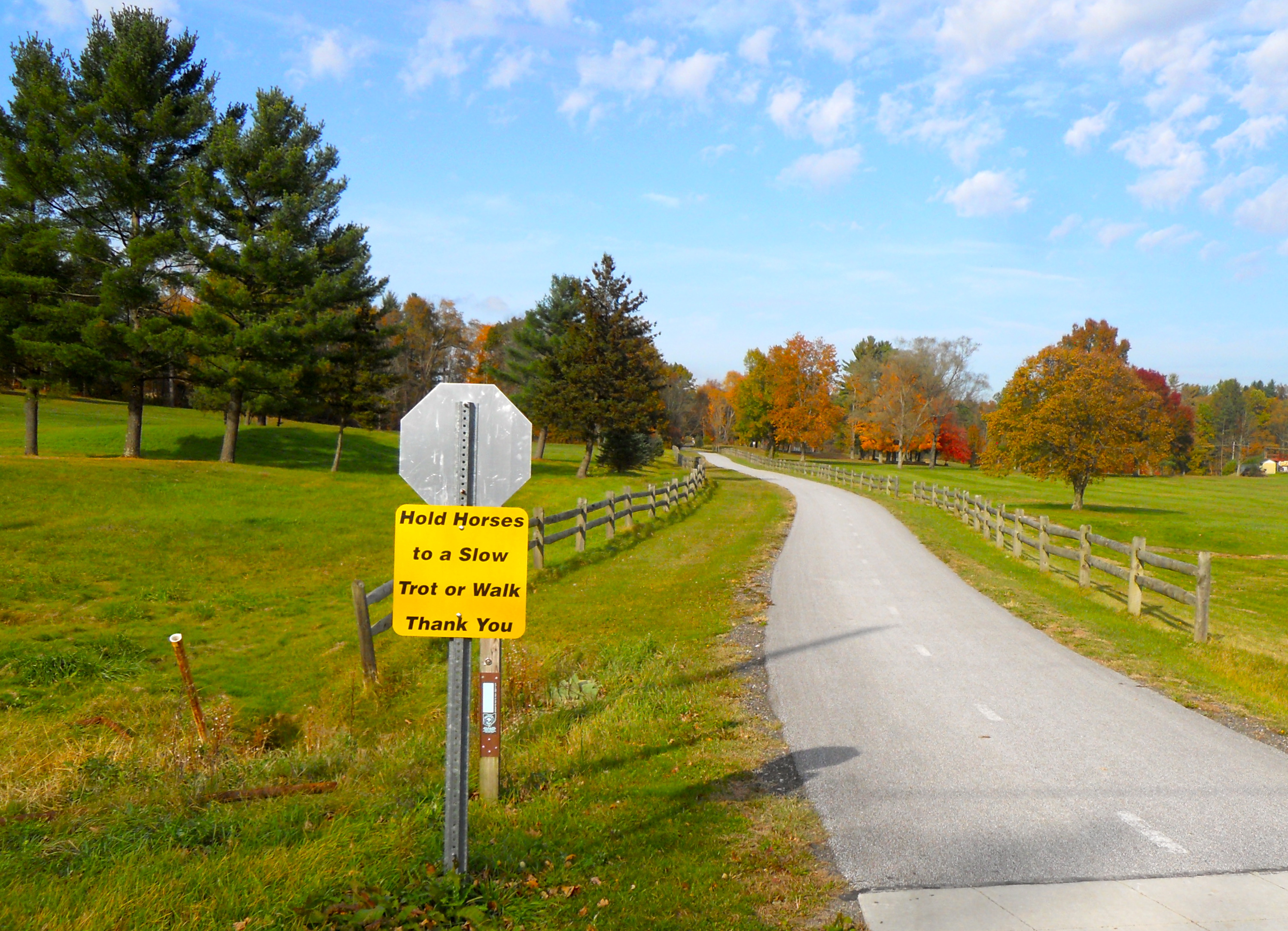 David and I took our bikes along so we could ride that trail. We started at Headwaters Park, by what was known then as the Akron Reservoir. For those of you who have read Bonnet Strings, you know this plays prominently in the story of David's and my relationship. When we visited the reservoir on Thursday, the water was low. Here are photos.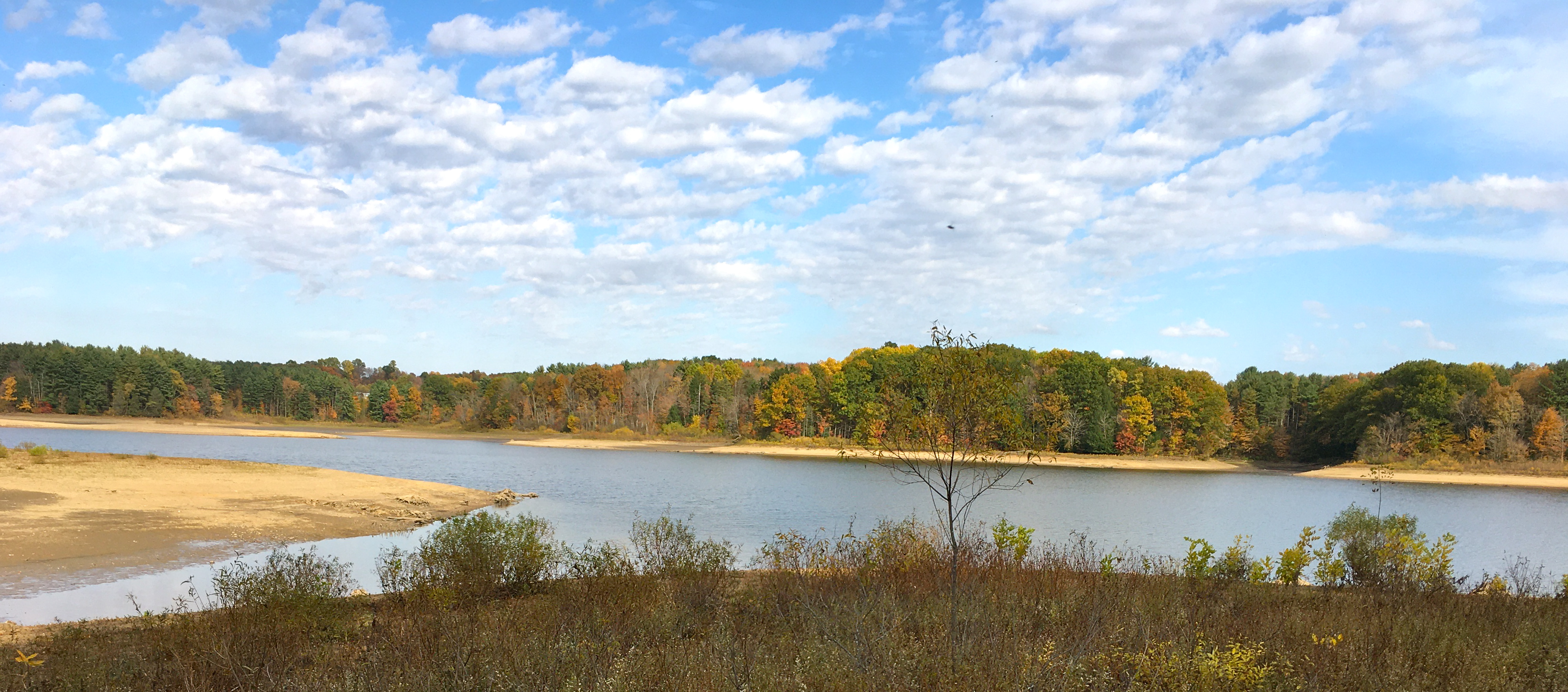 As you can see, canoes can still be rented, even though in many other places, only kayaks are available.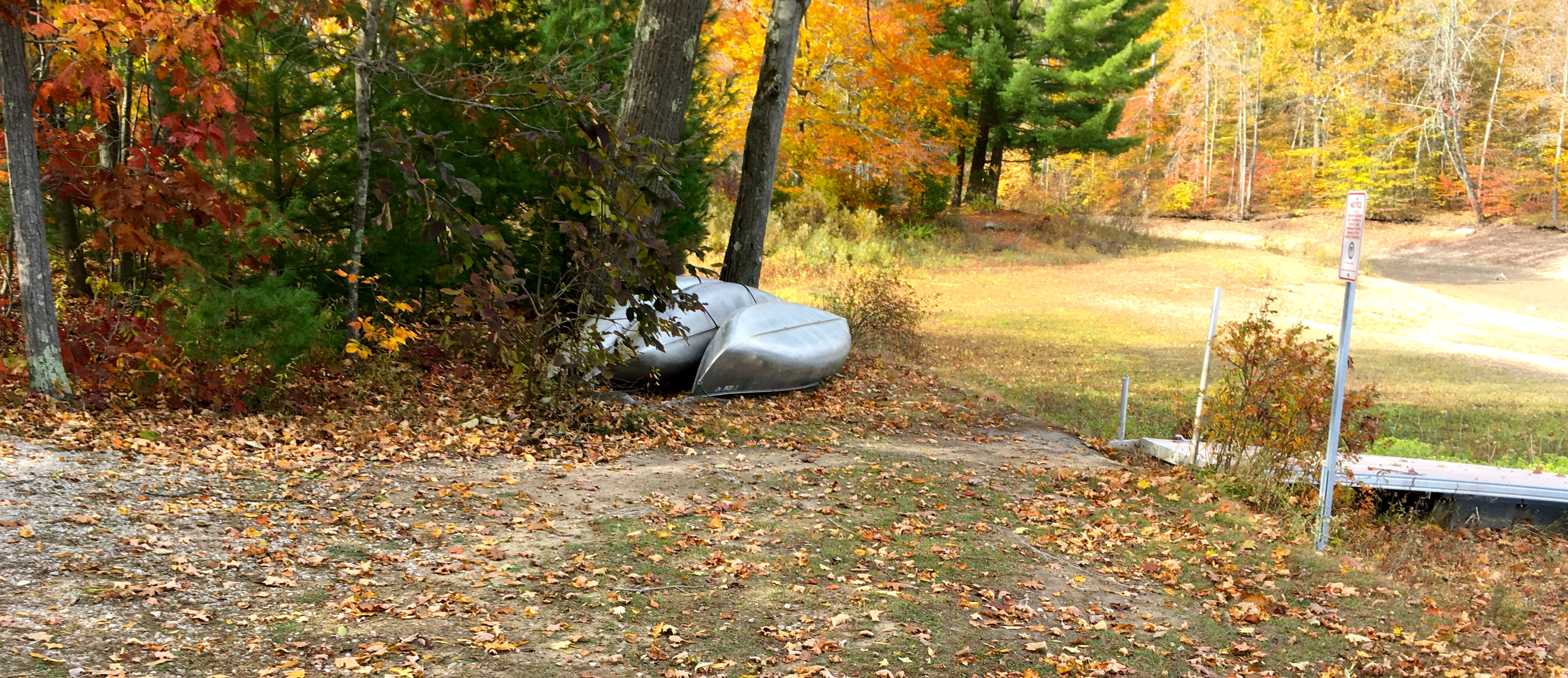 During my childhood, Durkee Road became a snowmobile trail in the winter. My siblings and I used to go sledding on the hill once the snowmobiles packed it down. On good sledding days, we'd slide from the top of the hill all the way down to the railroad tracks, bumping and giggling all the way. When we stopped at the bottom, there was a long climb up the hill for another ride. The anticipation of taking that next ride propelled me up the hill, even when I got tired. It was hard to know when to stop because once at the top I'd look down the hill and think about how much fun it would be to slide down "just one more time." But there was still the walk home, and eventually I had to turn my back on the temptation and trudge back to the house.
A short distance from Headwaters Park, I came to the crossroads of my present and my past. Here, I was gliding over the spot on my bike where my child self used to slide to a stop at the bottom of the hill.  The arrow on the sign is pointing to the very spot. But, wow, does that hill look smaller than I remember it!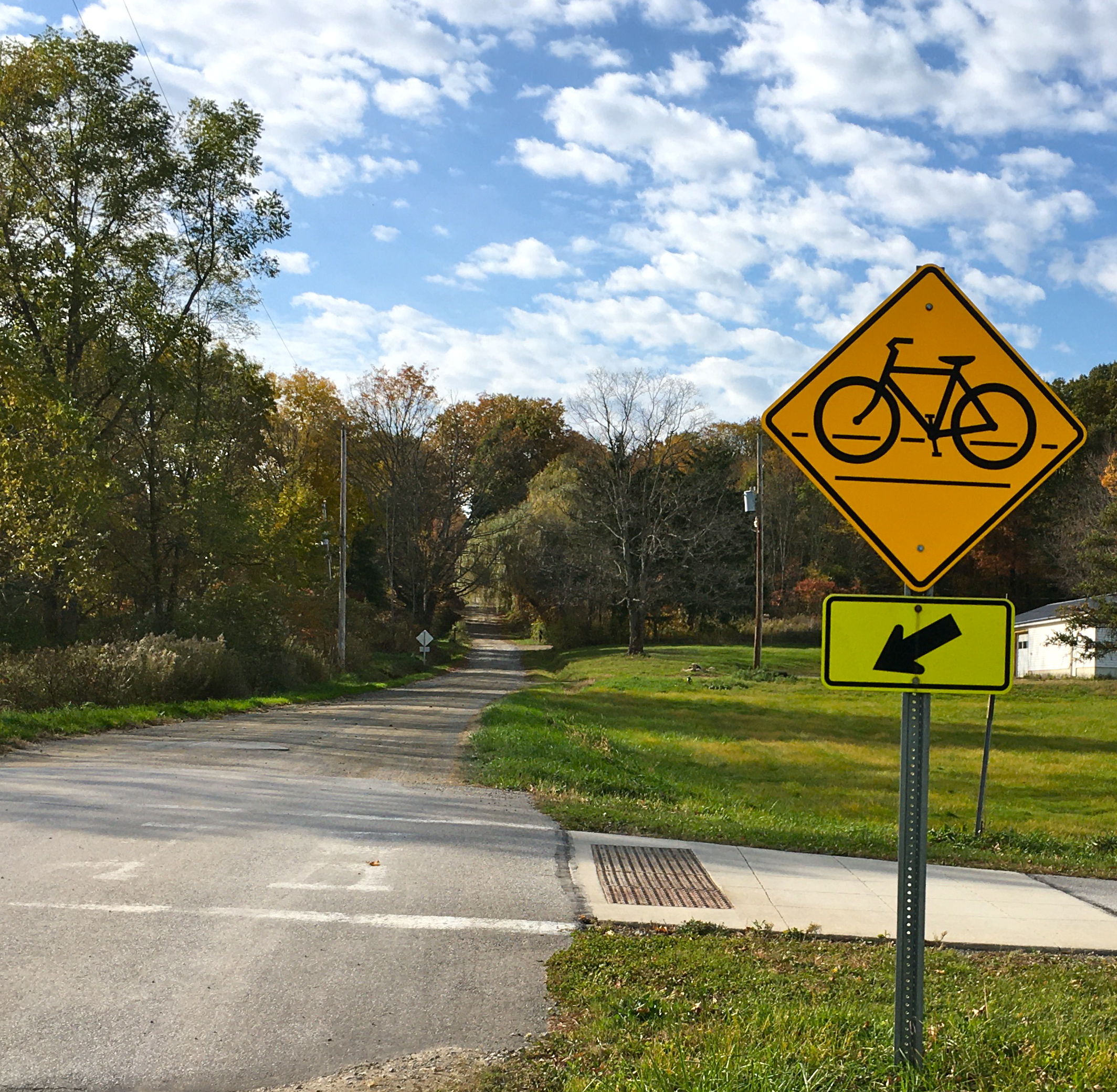 As David and I rode the beautiful trail down to Middlefield, the market town where we used to buy our groceries, I realized this trail brought Middlefield a lot closer to my childhood home. It felt like such freedom to ride along feeling the autumn breezes kissing my cheeks, watching the chipmunks scurry away from the trail, and allowing the memories of my past to wash over me.
I thought of Datt as I rode along. Whenever he wanted to go south to Middlefield, or north to Painesville, he'd walk down to the railroad tracks and hop on a freight train, then hop off when he got to where he was going. The train engineer would slow the train when he saw Datt, and then again before Datt got off. Datt used to work on the B&O railroad as a brakeman. He loved that job. When he rejoined the Amish, that job had to go. I realized that I was experiencing the ride through the woods much the same way Datt would have when he was riding the train. That is me, that speck in the distance.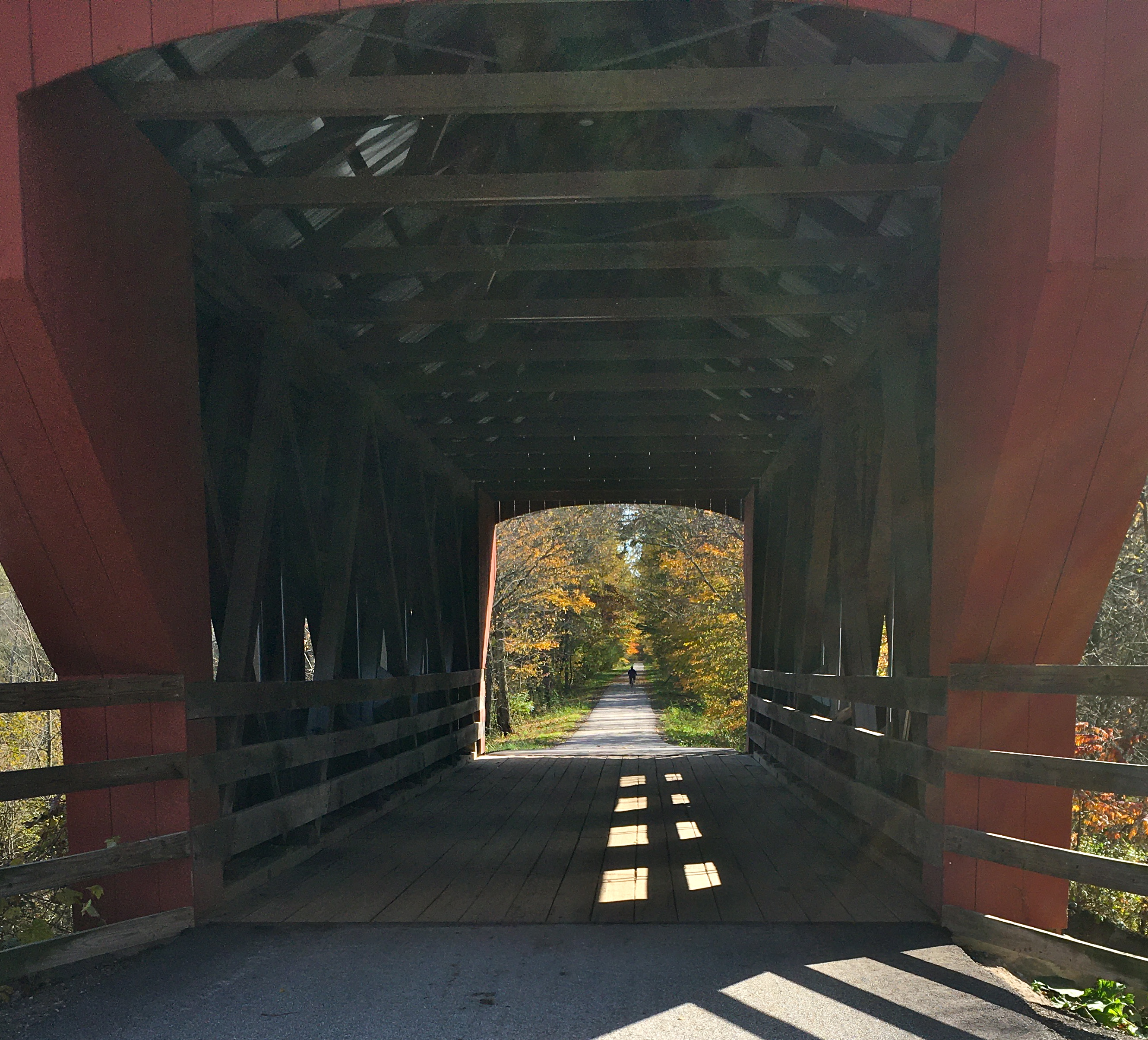 For a brief moment, I wondered if I would have left my community if I had experienced the freedom of riding a bike to get around under my own steam, especially with such a superhighway for bikes. But just as quickly, I realized there are other freedoms I would still not have, and I dismissed that idea. I reminded myself that the Amish in that community are not allowed to ride bikes to this day. They ride fancy scooters — my are they fancy! I wish I had thought of taking a photo of the scooters outside the store where they sell them for $120 each. There was one that was hot pink. I wondered once again the reasons why bicycles are not allowed, and yet taxis are. Bicycles would provide young people with clean fun, and get them to where they are going without having to pay taxis. I believe one of the reasons the youth tend to "sow their wild oats" by partying is because they are repressed in so many other ways. Most of the youth don't rebel by buying themselves a bicycle or taking college courses. Instead they rebel in the more acceptable (and self-destrictive) ways such as having boomboxes on their buggies, drinking, and partying. The parents and elders know that the youth will be required to give up those things before they can become baptized members of the church. Whereas, they cannot give up any awareness that would come of more education, nor would they want to forfeit their self-reliance by giving up their mode of transportation and recreation. So the result is that Amish youth are limited to rebellions that don't get them anywhere. I find this unfortunate.
I realized the freedoms I have experienced that I could never have imagined when I was a child. More than the freedom of owning an car and a bicycle and other modern conveniences are the important things such as developing and cultivating a sense of self, earning a college education, and having the confidence to establish myself as a writer and author. And just as important was the freedom to marry the love of my life. David and I are on this journey together, and that is what makes all the difference. Below is a photo of David leading the way through one of the covered bridges.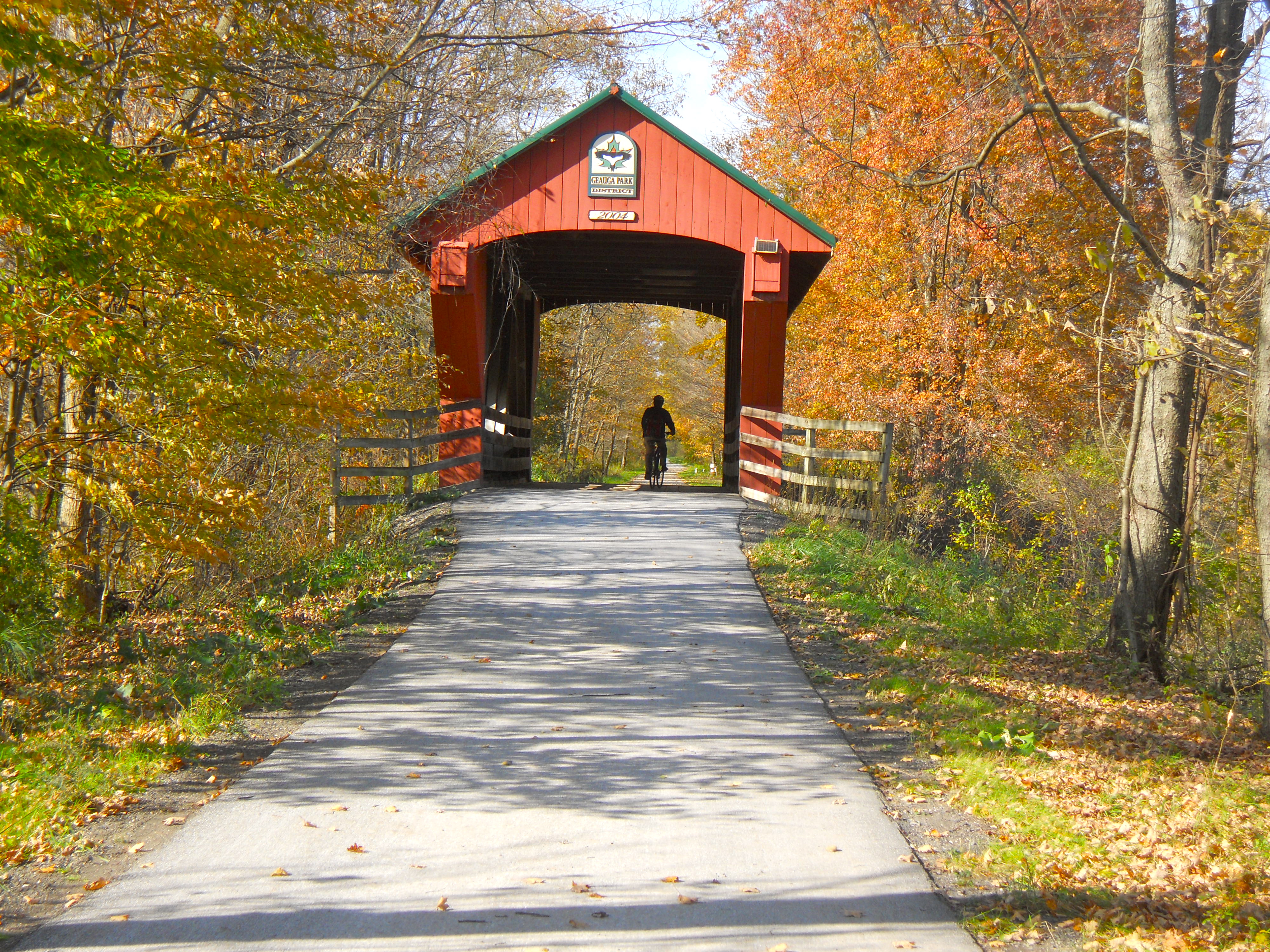 As I child I did not have any idea that I would someday be who I am today. However, as an adult, I have the ability to reflect on where I came from and the struggles I endured that helped shape me into who I am today. It deepens my sense of gratitude for my freedom, for David, and for all that our life is.
Below is a photo of me riding to the junction of my present and past life.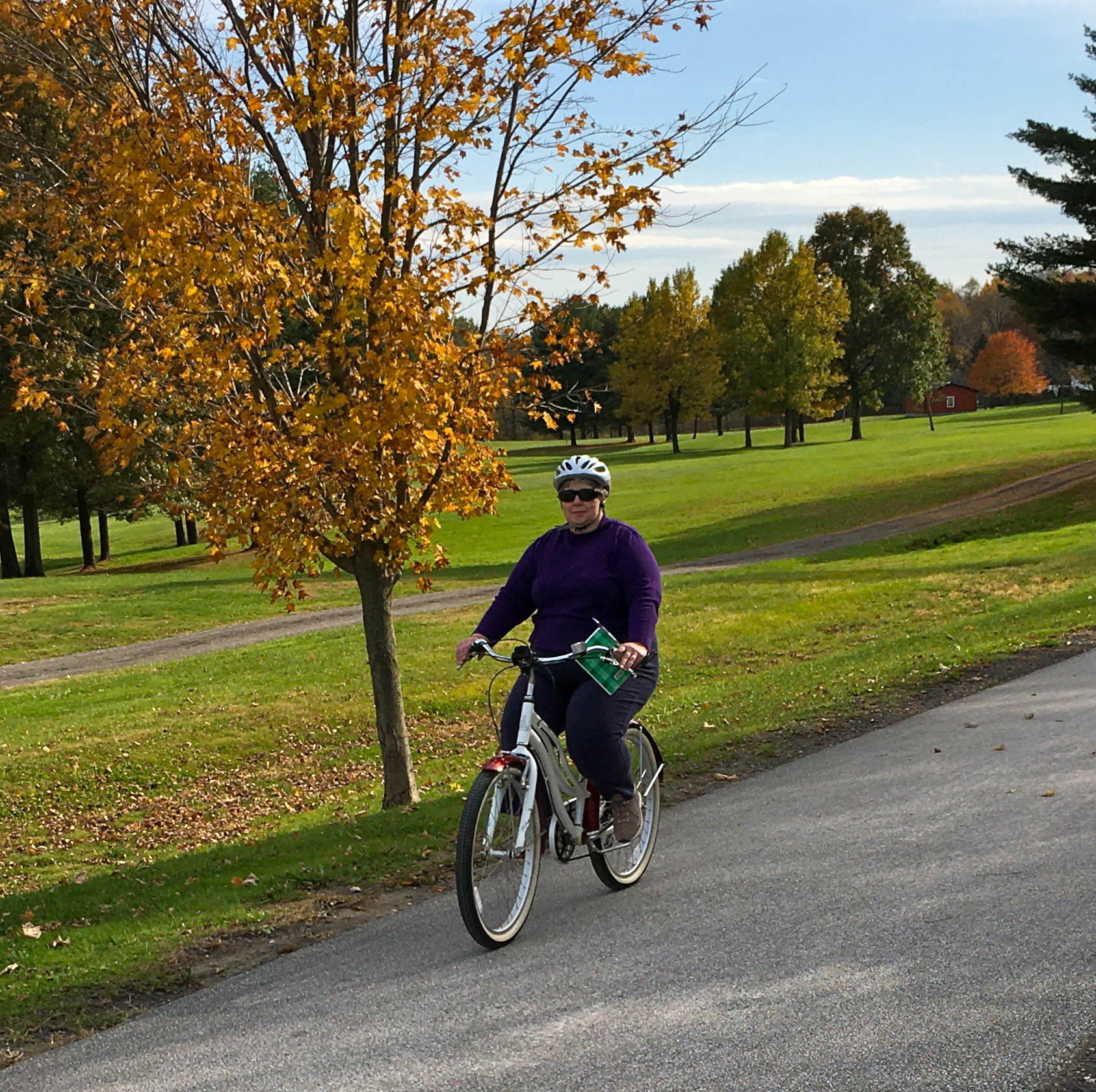 I saw several Amish men on the bike path.  One was riding a scooter. Another was jogging, which surprised me. I never saw any other Amish people jogging when I was in the community. I tried it and was publicly humiliated for it. I'm glad it is now acceptable.  There is an Amish man standing in the photo below, watching the brook flow underneath the beautiful bridge.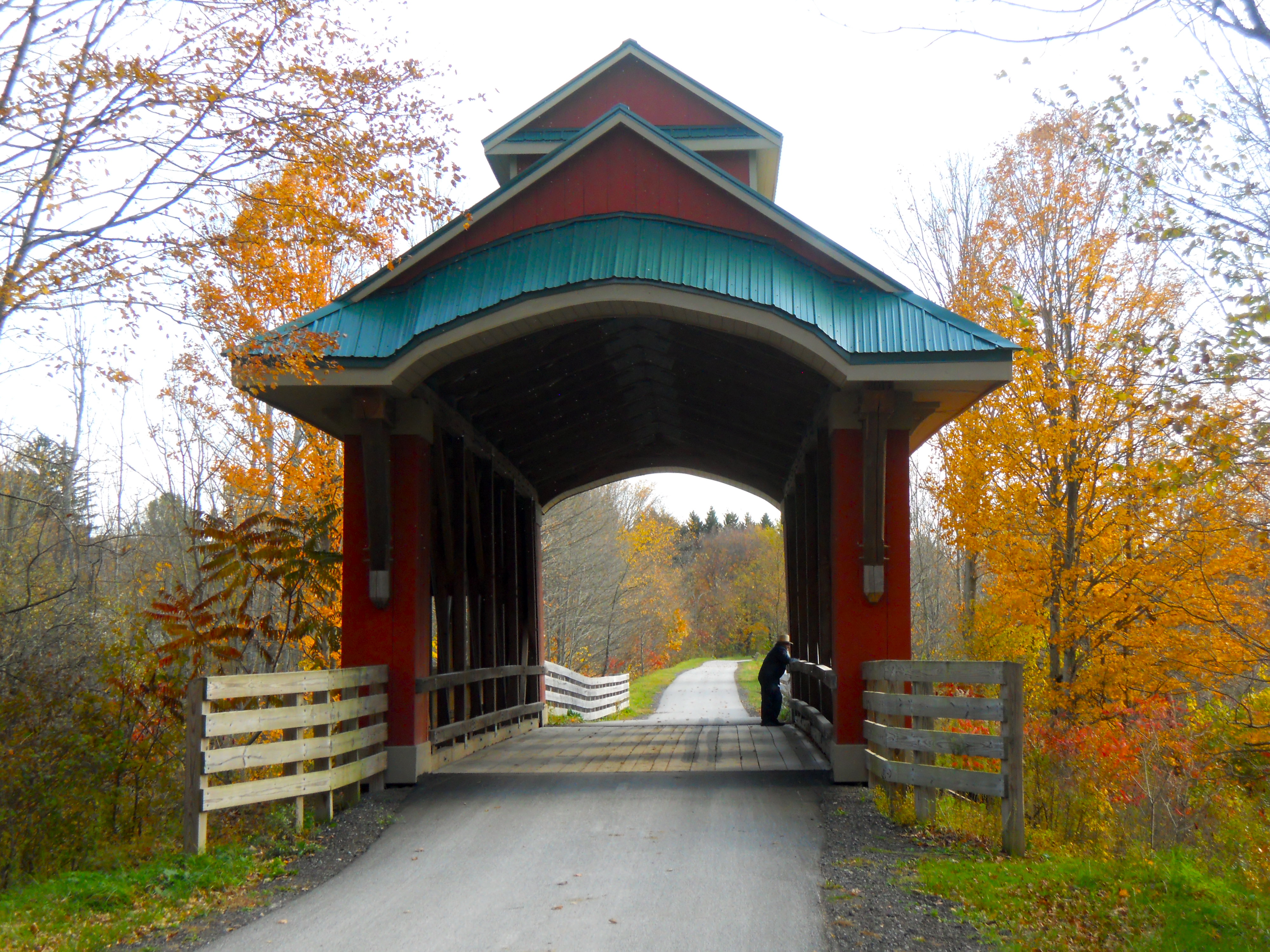 David and I visited the graveyard where Datt and Mem are buried. It sits on a knoll above my uncle's farm in a quiet and peaceful setting.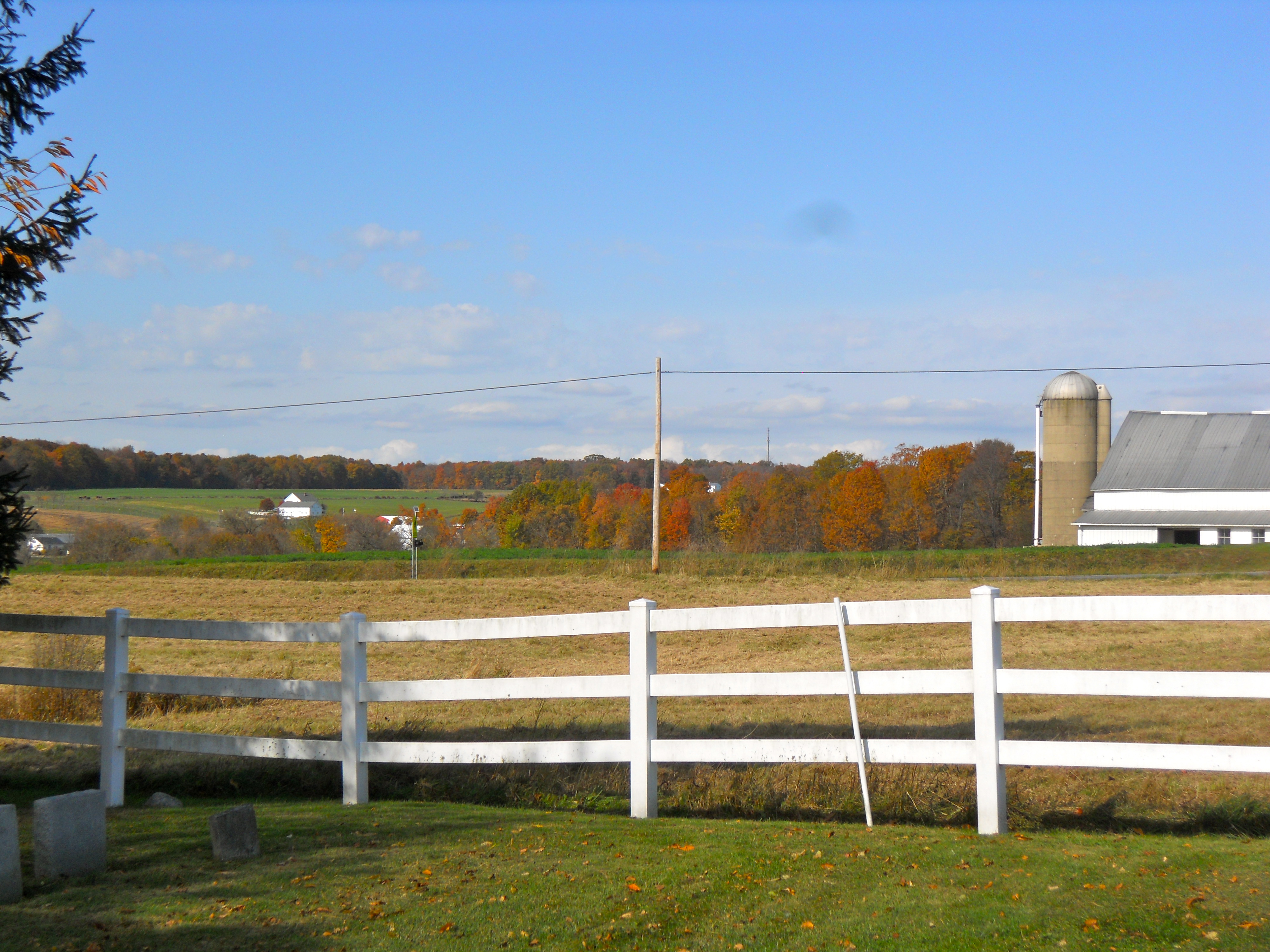 I discovered that a recent burial took place next to theirs, and the soil from the new grave has been piled temporarily on my parents' gravesites.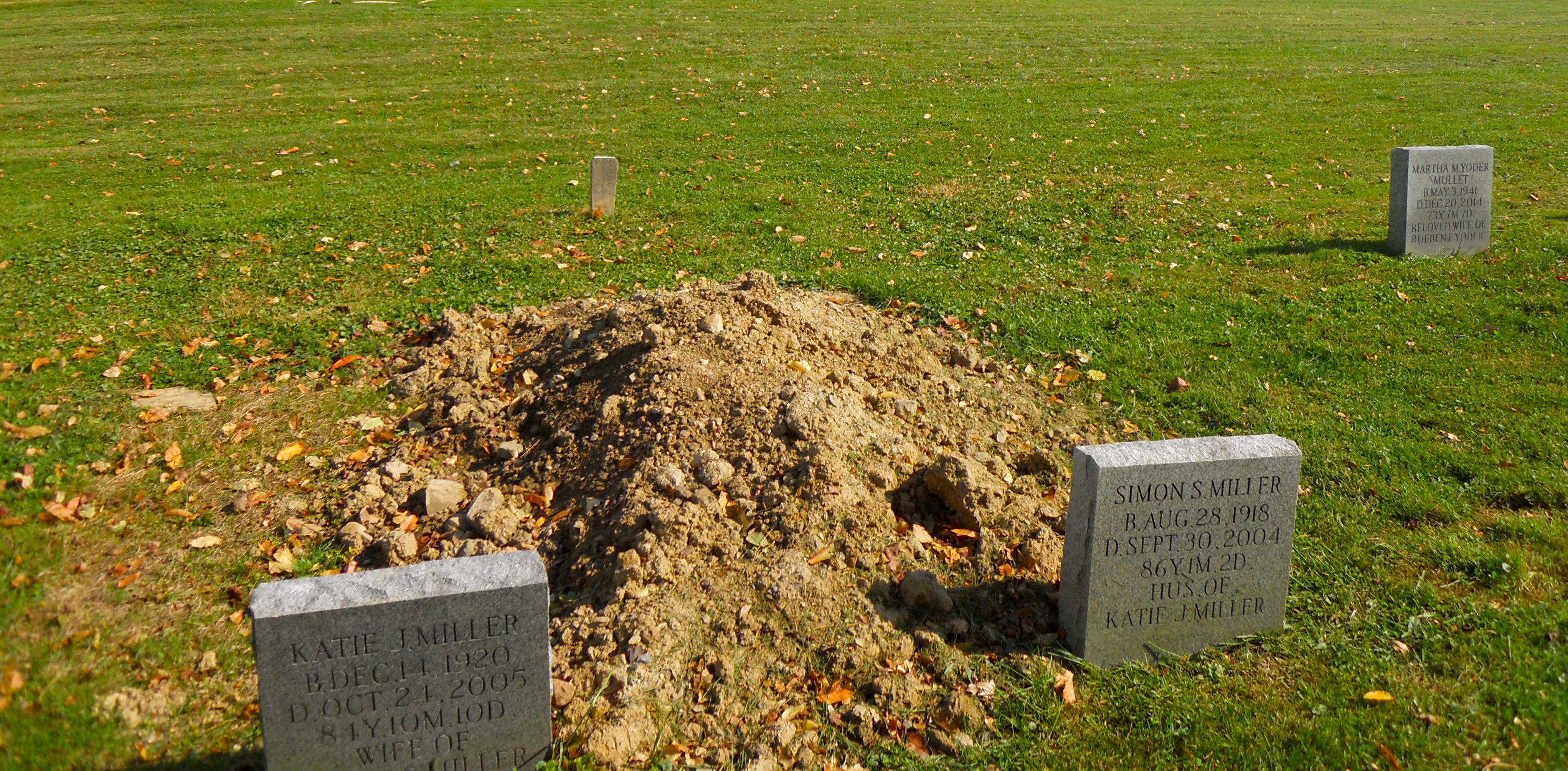 The trip through West Virginia gave us sights we'd never seen before. Here is a photo taken at one of the overlooks on Route 48. When I see such vistas, I am reminded that Love and Beauty are one in the same. The autumn colors were in their glory in this spot yesterday.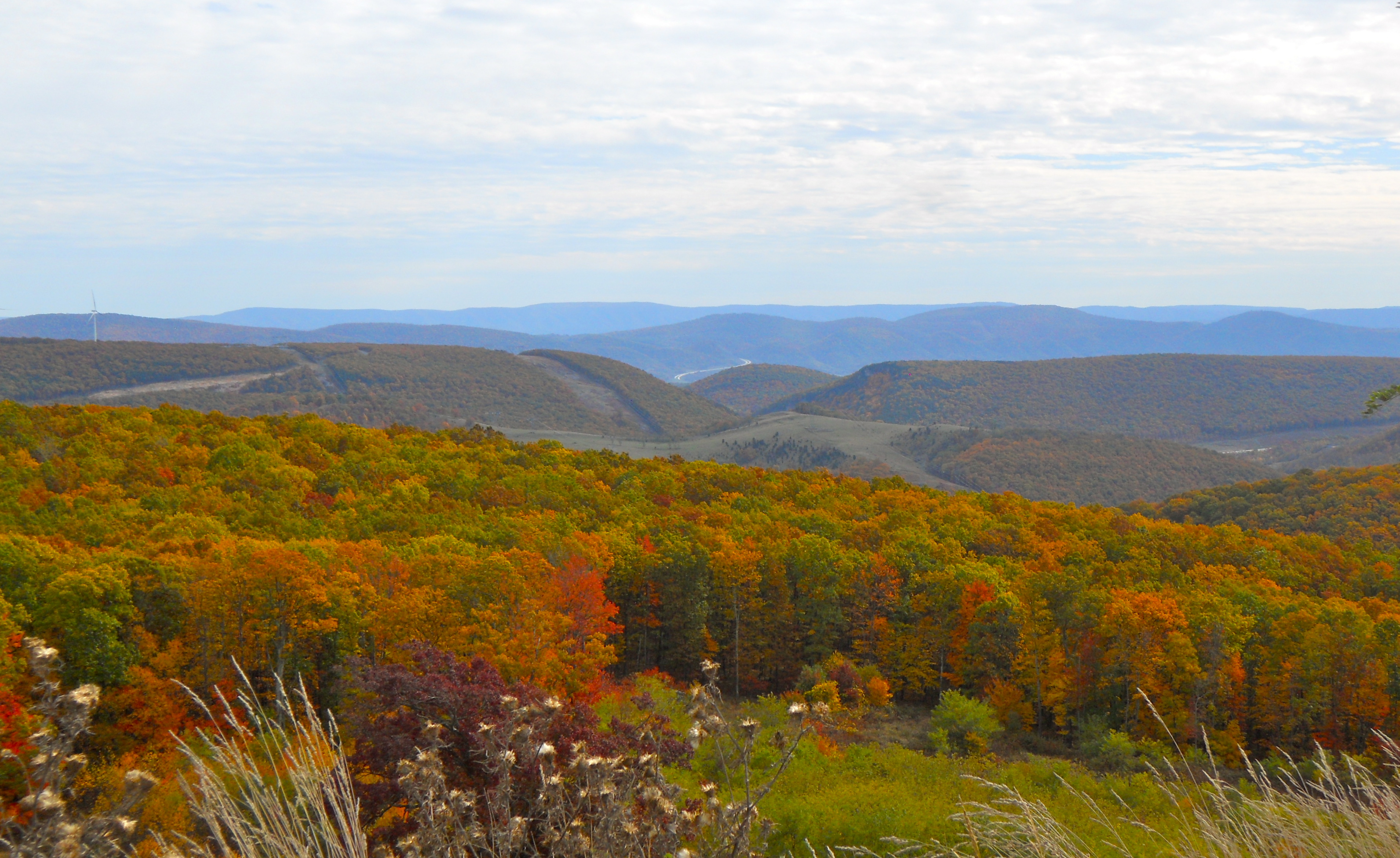 Overall, this trip was a whirlwind, but I'm glad we made the journey.